My Half Dome Adventure
Stio Local Kelly reflects on a journey up and down Half Dome's infamous cables.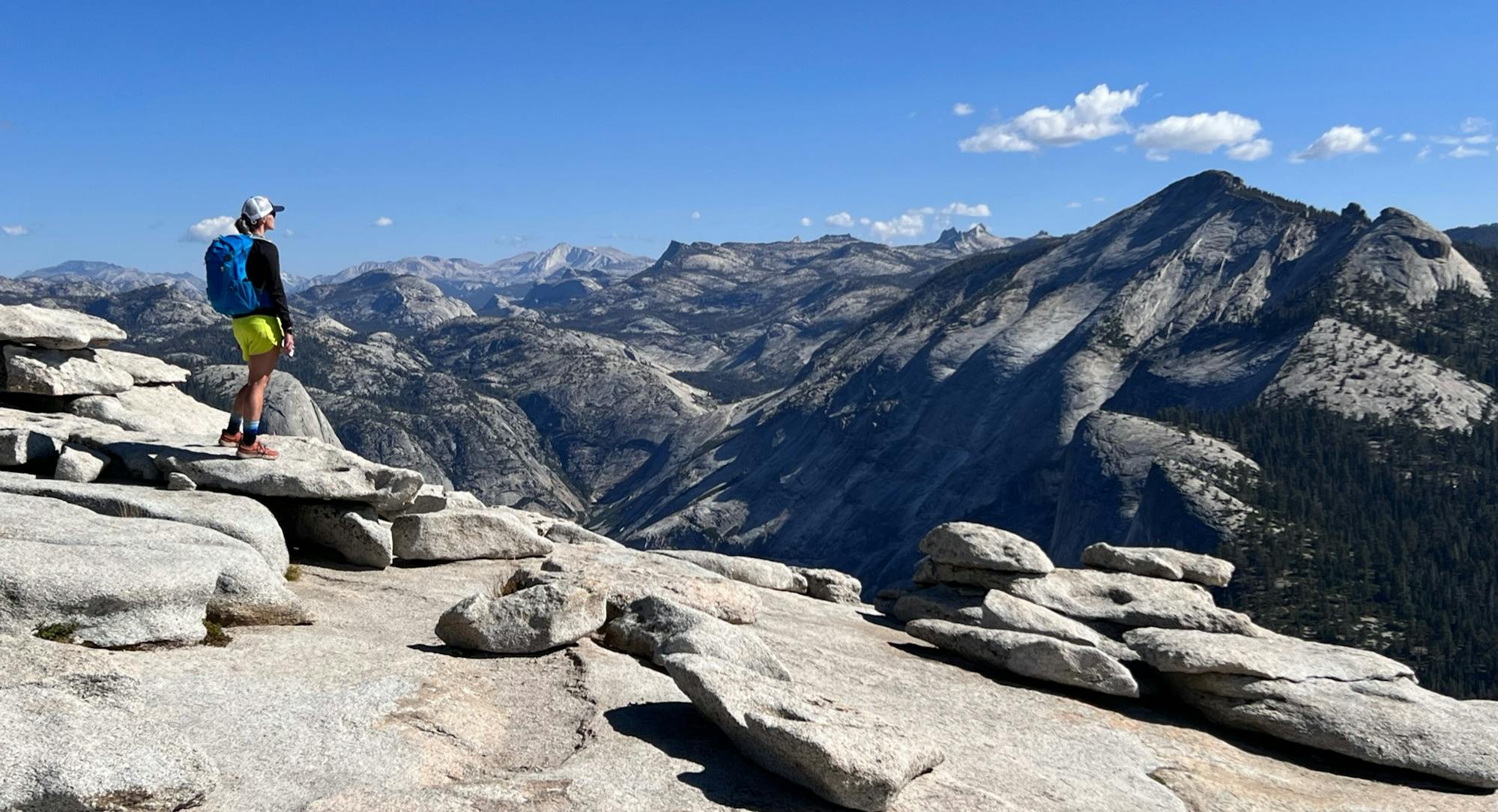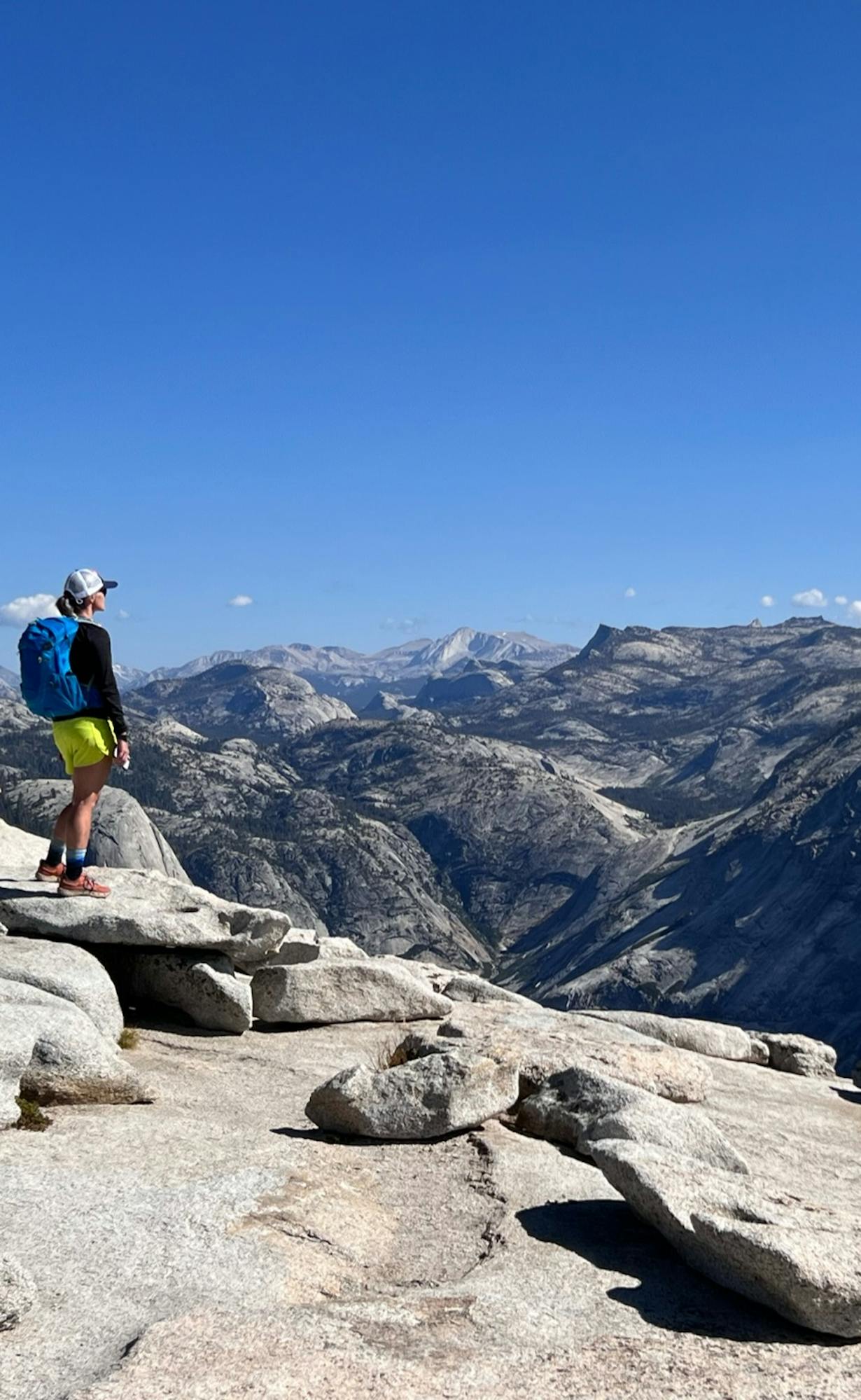 The day started with a 4 A.M. wake-up call. Myself and five of my good friends were going to do Half Dome! I won the lottery back in April. The rest of the group had been trying to win summit tickets for a few years, but I happened to get lucky, I guess! We were staying at Housekeeping Camp and had two units back-to-back. I am usually super prepared for trips like this, but life has been absurdly crazy lately. Between work, homeschooling my kids, and their activities, and trying to get my runs and workouts in, I just feel like I don't have enough time in the day. That was the group consensus as well, so I was glad I was not alone. I have done many endurance races in the past( I am a retired triathlete as I say) and have raced full and half distance ironman's, done some Xterra's, shorter mountain bike races, and trail races of all distances including a 33 miler but my training for this was subpar. I trained for a trail race back in August, and that was the extent of it! Again, not like me at all! I had some nerves going into this day, but I figured if I could cover 140.6 miles in less than 13 hours, I could do this hike! The next alarm for 4:15 went off and we started to get up and get ready in the dark. We downed coffee and oatmeal and grabbed our packs from the bear boxes we had packed the night before!
We drove to the trailhead and parked on the side of the road. Construction signs were everywhere, and it was hard to tell what was opened and closed as far as lots go, and it was DARK! We saw a bunch of cars parked on the side of the road with hikers getting ready so we followed suit. We realized later this added more mileage to our day! Oh well. Headlamps on, we started the journey to the trailhead. Hiking while dark out was a unique experience especially once we hit dirt. Luckily we didn't see any glowing eyes in the forest! It was neat seeing different groups of headlamps on the trail up ahead. The night sky was stunning! 
The hike is a constant uphill. Pavement for the first mile or so and then you hit steps cut into the granite of all shapes and sizes. We could hear the thunderous roar of the river below that we could not see. We kept going up and up on the Mist Trail until we hit the top of Vernal Falls. By this time, we could put our headlamps away. The scenery was just breathtaking, and the valley came to life below us.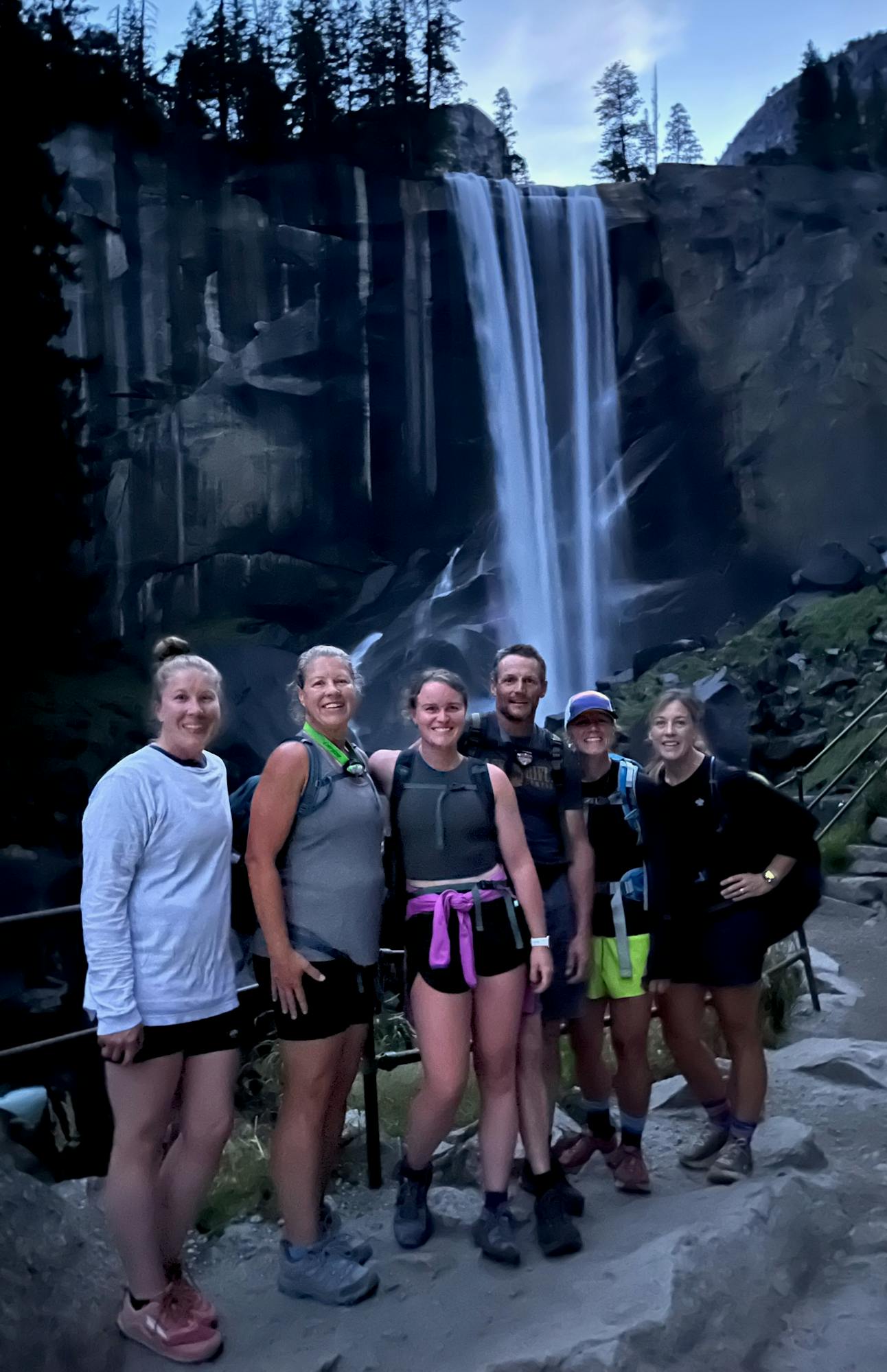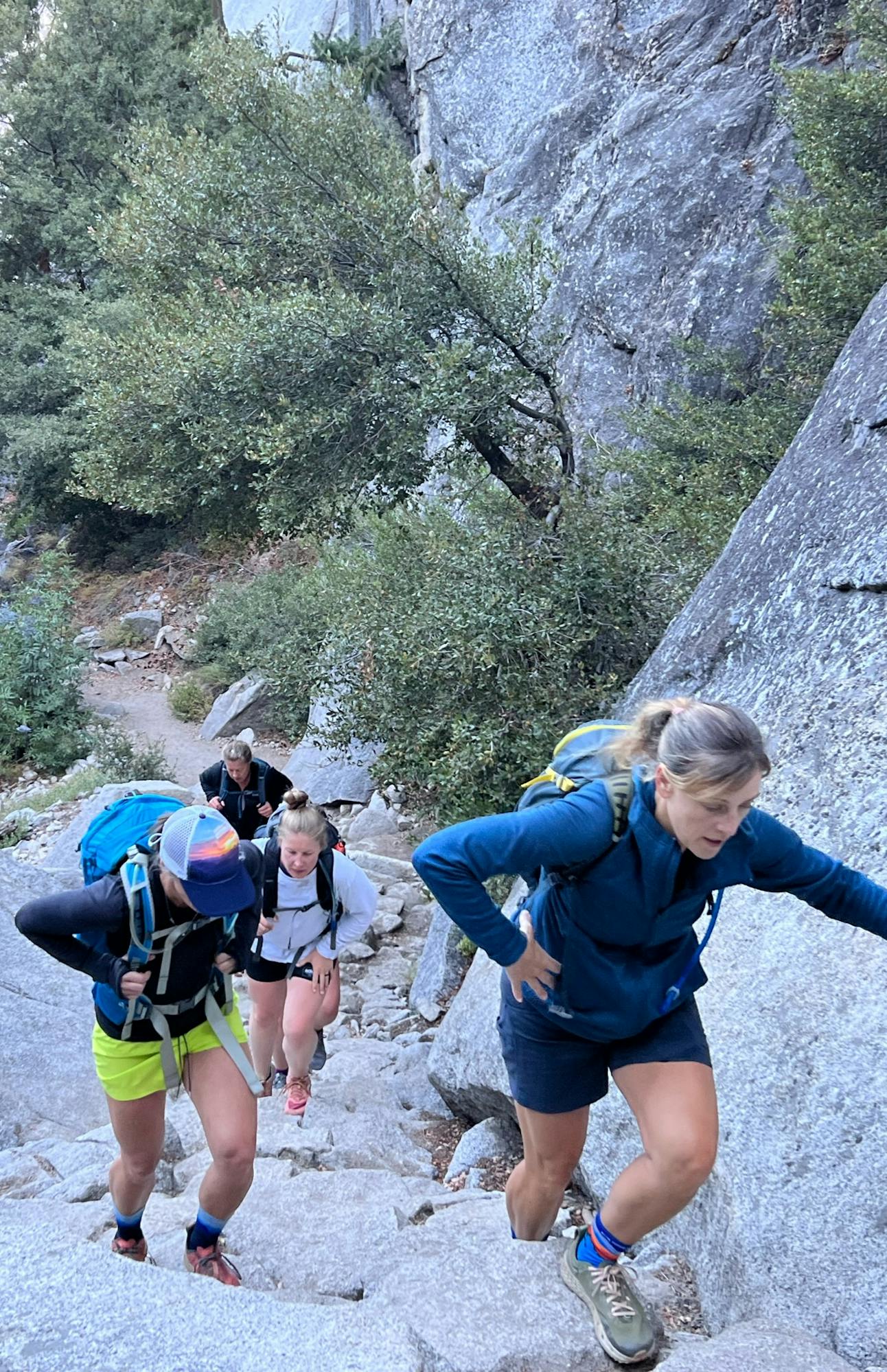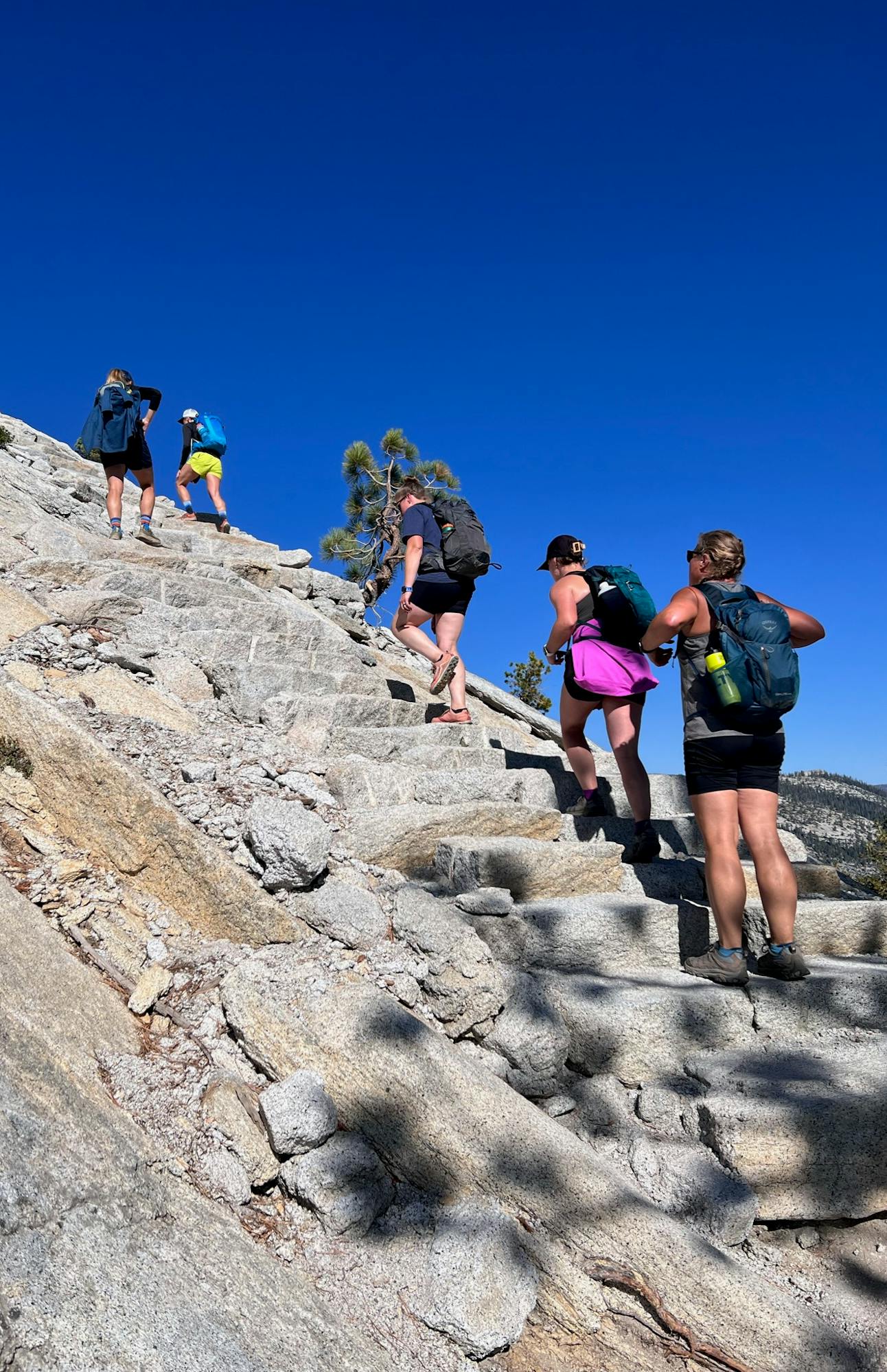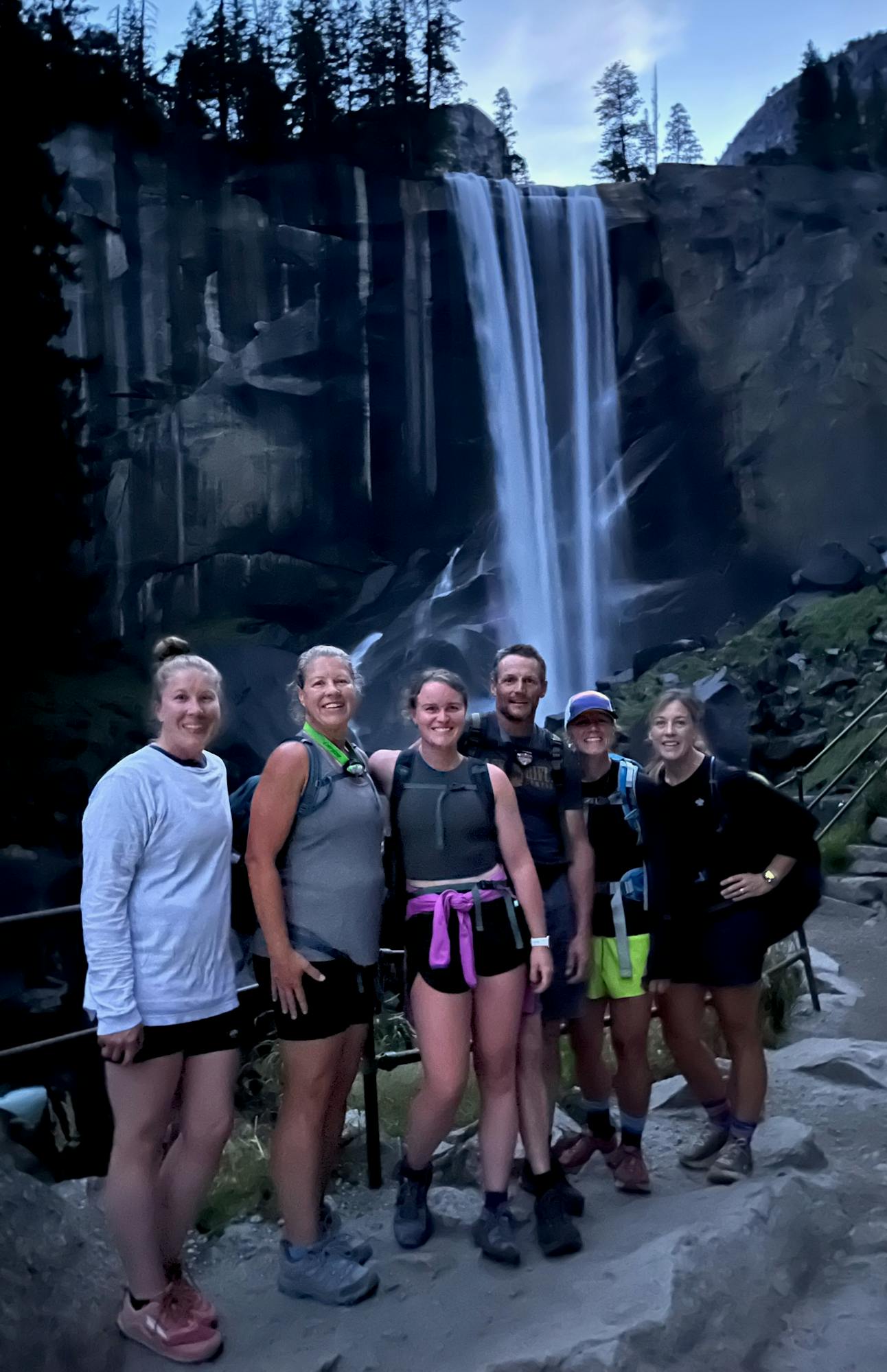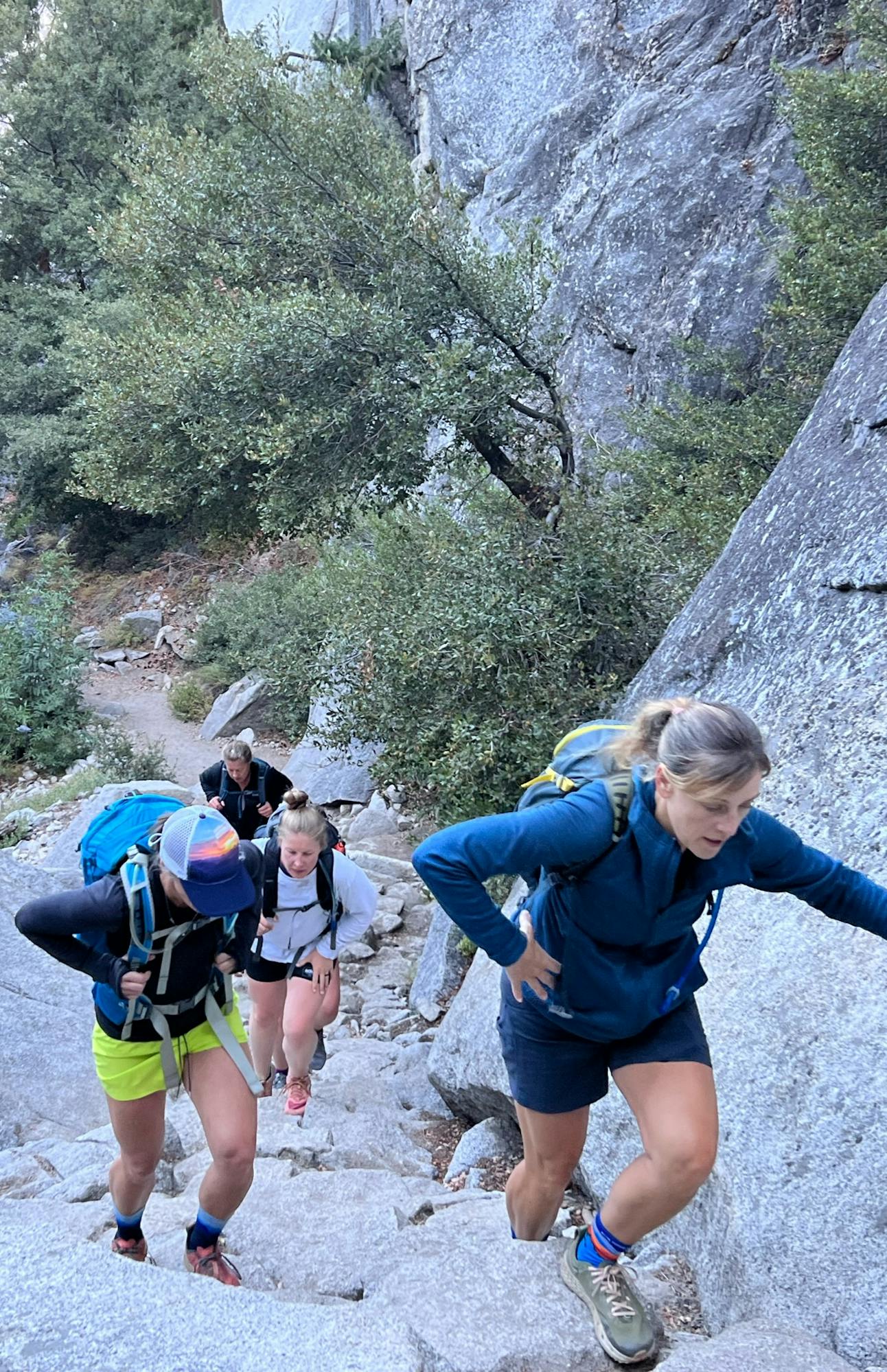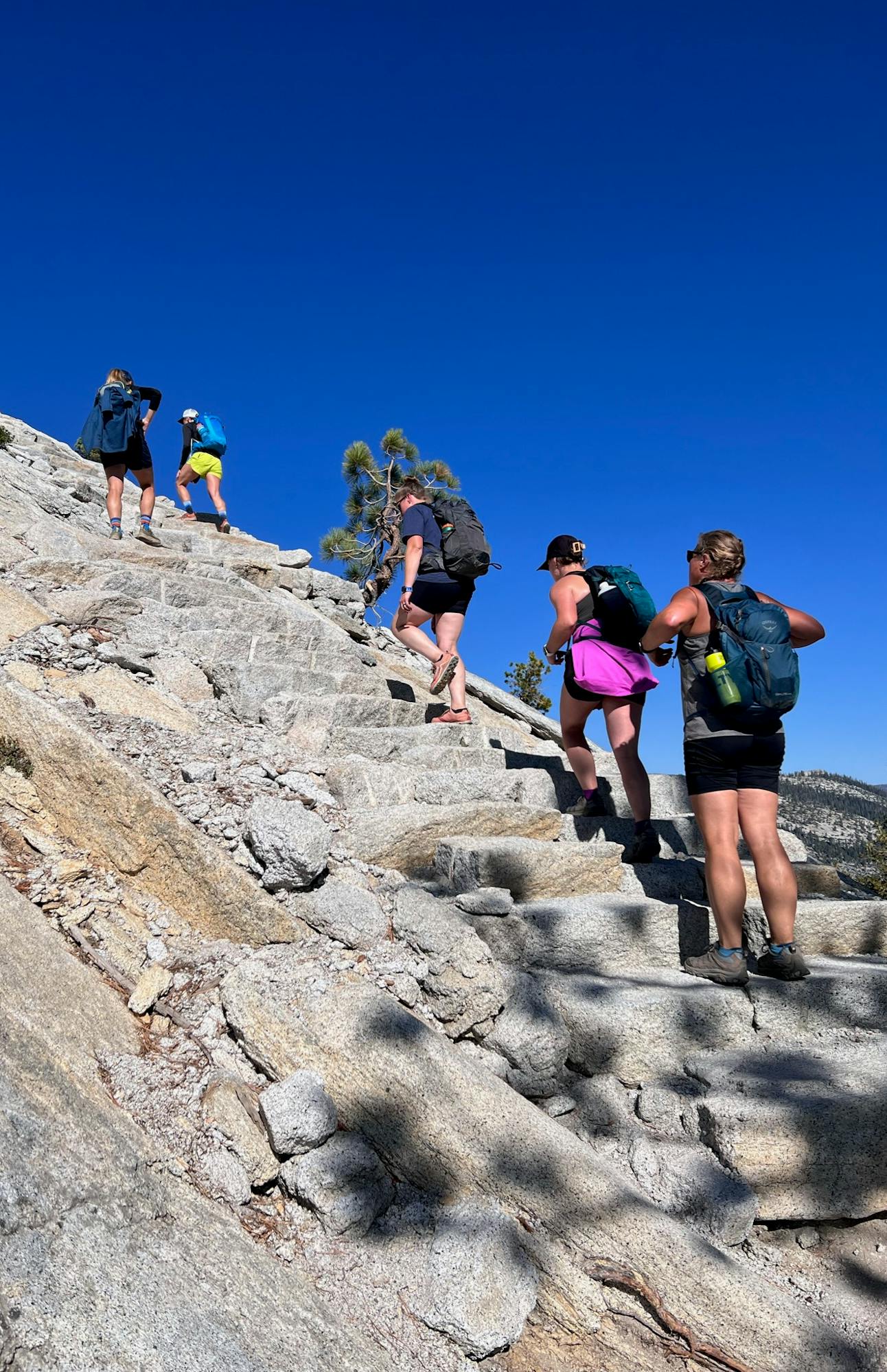 After taking some pictures we continued along the relentless uphill of granite steps of all shapes and sizes to the top of Nevada Falls. More pictures and away we went! It was getting quieter now as the roar of the waterfalls and river was now behind us. It became more forested along this stretch. You could smell the pine trees and dirt. The hike also leveled out a bit as we approached Little Yosemite Valley Campground. The sun hadn't quite hit us in the valley, but it sure made Half Dome glow. It was beautiful! 
After passing Little Yosemite Valley, the trail meanders uphill, gently through the forest, until you meet the bottom of the Sub Dome. Some say the Sub Dome is worse than the actual cables itself. It's a steep uphill section of the granite with steps made from granite with loose dirt. In some spots, you are just walking on the granite, with no steps. There were NO rangers that day checking for permits and luckily there were not many people on our trip up and we only saw a few coming down. Once we got past the steep section the path widens and you can choose your own way along the granite to the cables. I didn't think the Sub Dome was that bad. Steep yes, but I just carefully watched my footing.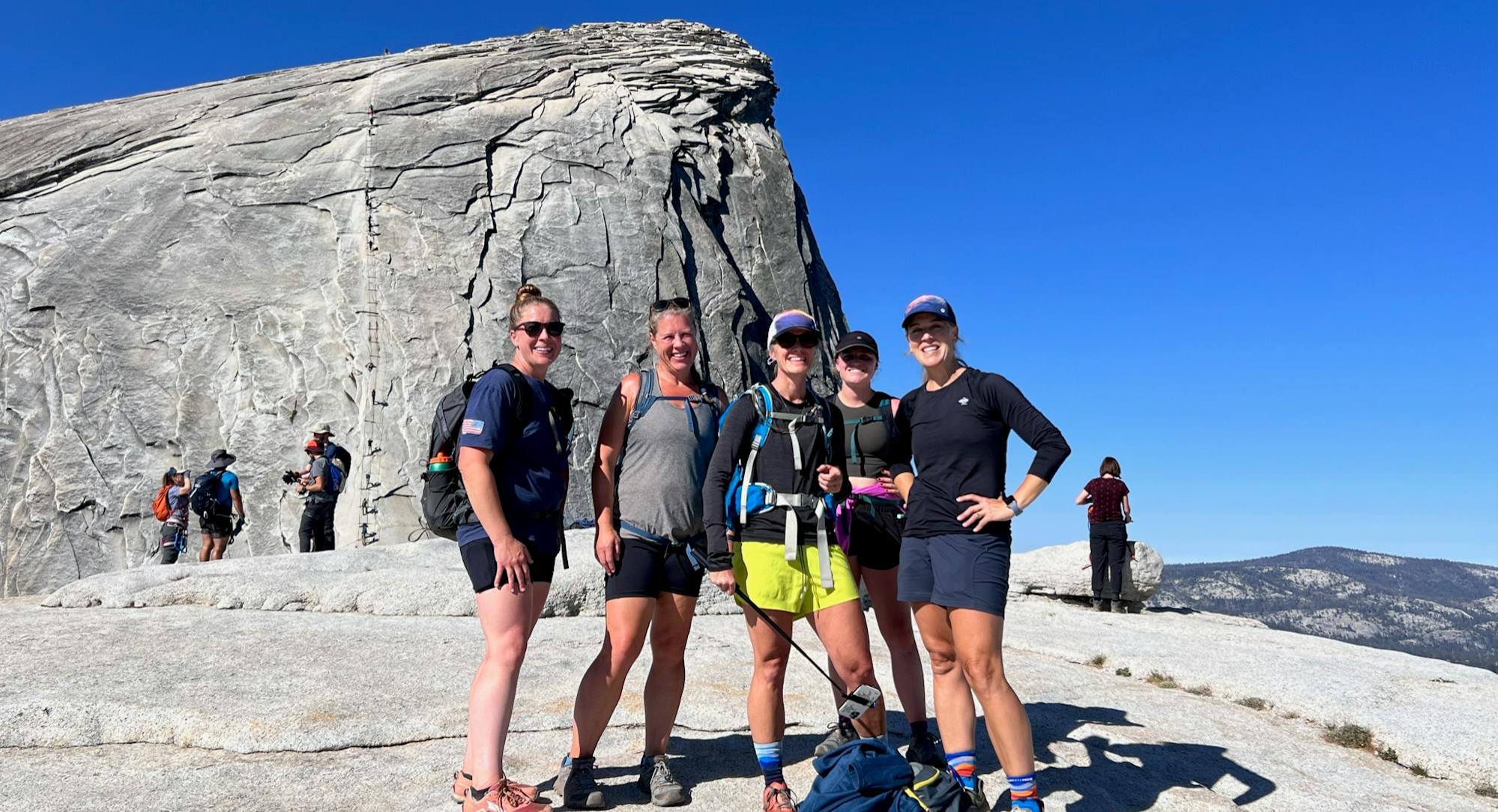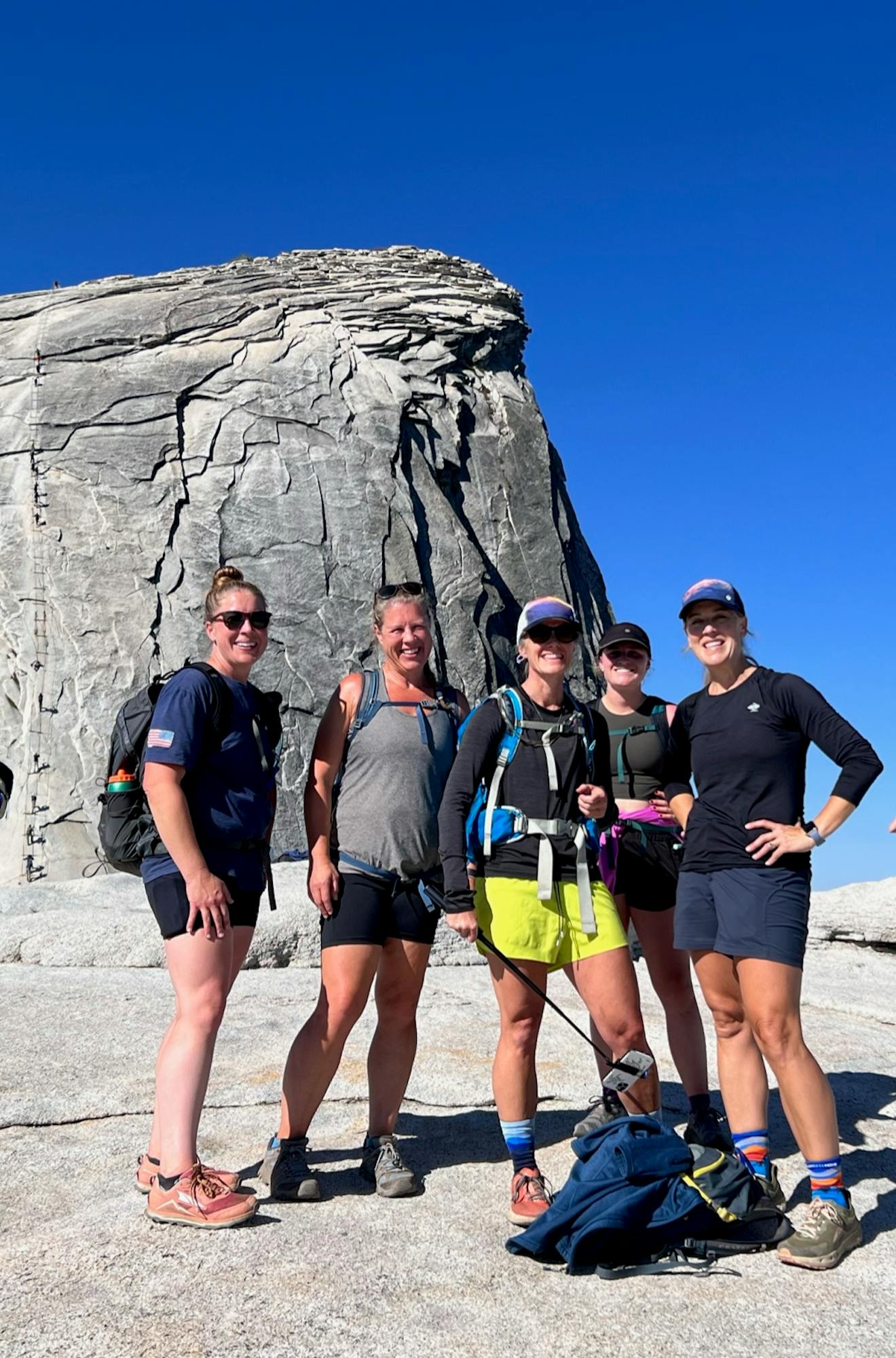 The notorious cables! I have done Half Dome twice, but it was over 20 years ago. I really didn't remember much about the cables. I was younger then, early 20's! Young and dumb haha! Now approaching my mid-40s, and being a Mom, I am a lot more cautious! I also had visions of Angel's Landing in my head, where I backed out halfway through that. Again, my group had me take the lead! Going up the cables, I felt so lucky that there really weren't a lot of people. Hanging on to the cable, hand over hand, I led our group to the top! There are 2x4s between the posts the cables are in, so I would stop every now and then at one of those to make sure my group was okay. I had a great rhythm going and we were all doing it! I kept my head down and never looked back! I passed one group going up, I needed to keep the momentum of my group going, and they were not moving and hadn't been moving. It was harder to breathe but we were almost there! The granite slab crests and the incline lessons and we've made it to the top! The views were stunning! We had the most beautiful day! Clear skies and perfect temps! We enjoyed the views and took a breather before heading back! 
As you know, getting up is only half the journey! We still had to get down. This is where it got tricky. We got stuck behind groups of people who honestly had NO business being up there. I see why accidents happen. It took us a long time to get off the cables, but after that, the hike down was a breeze. Going down is in some ways easier than going up! We made our trek down the Sub Dome. We stopped at Little Yosemite Valley campground for snacks and to refill and top off our hydration packs from the river. The amount of people headed up was crazy. We felt so lucky to start early! By the time we got down to the top of Nevada Falls, we had to take the John Muir Trail back to the valley due to construction on the Mist Trial. From this point, there were a LOT of people, but we dodged them all and made it to the valley, with a stop at the river to soak our feet and take in what we had just accomplished.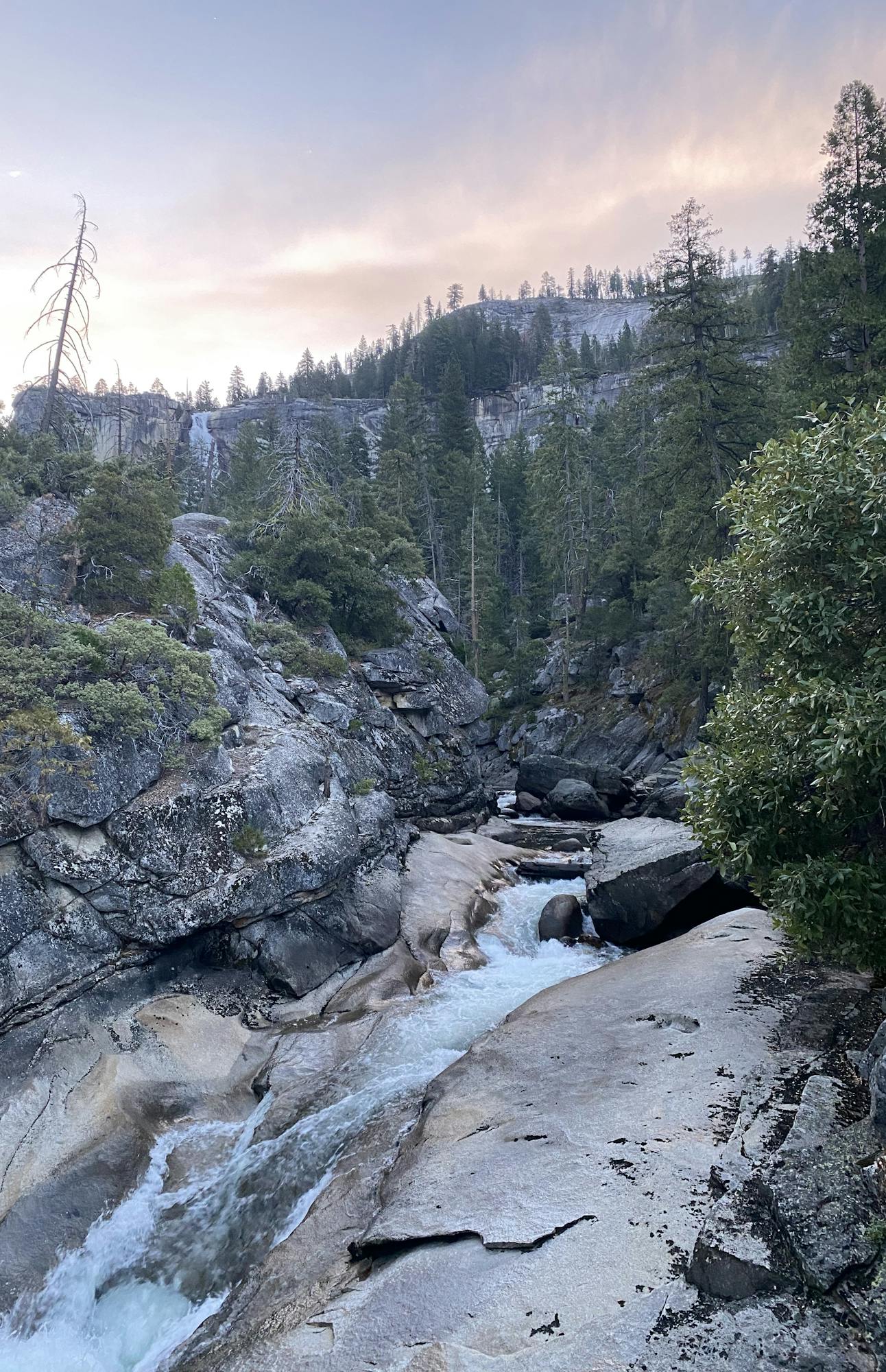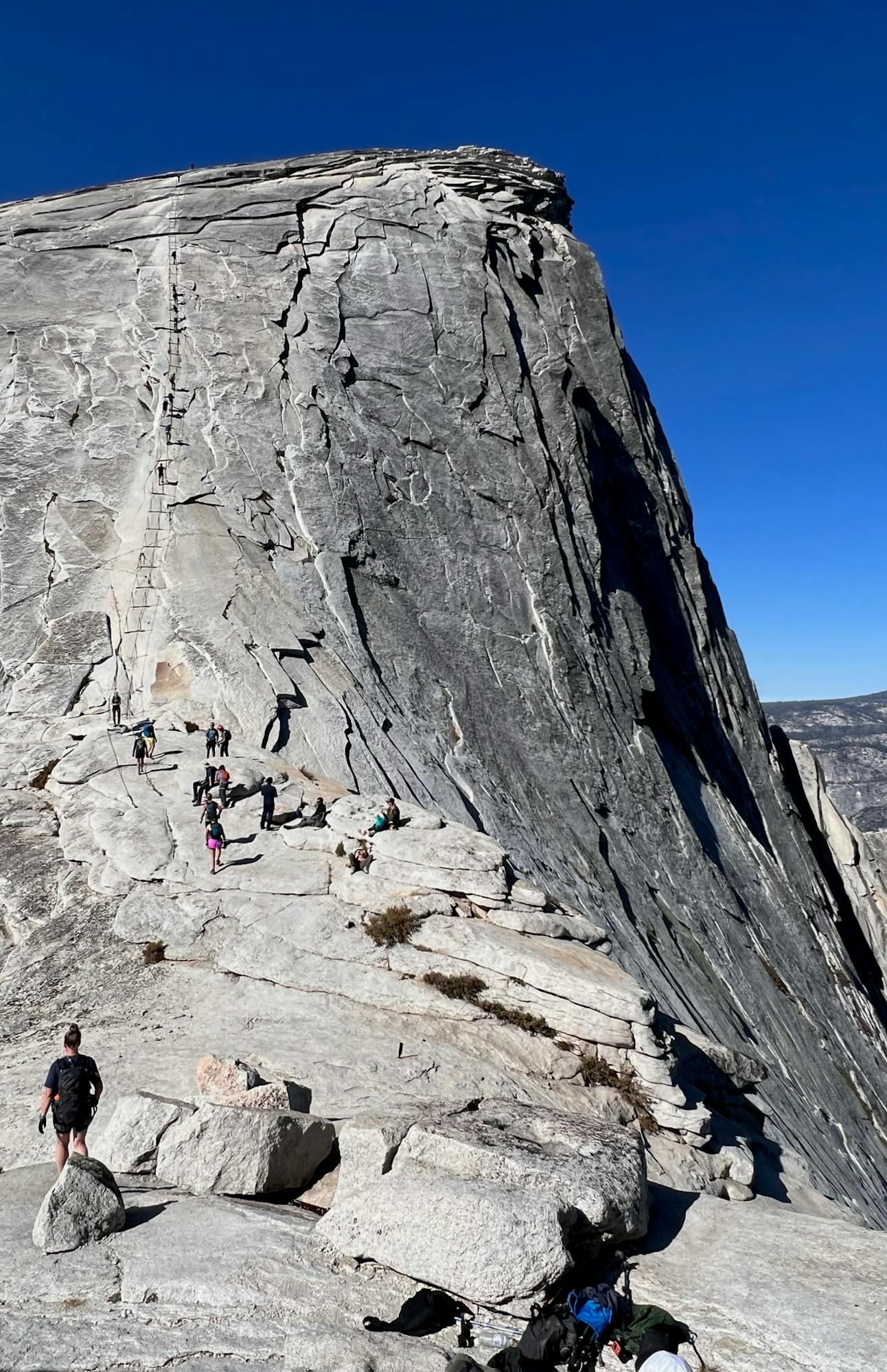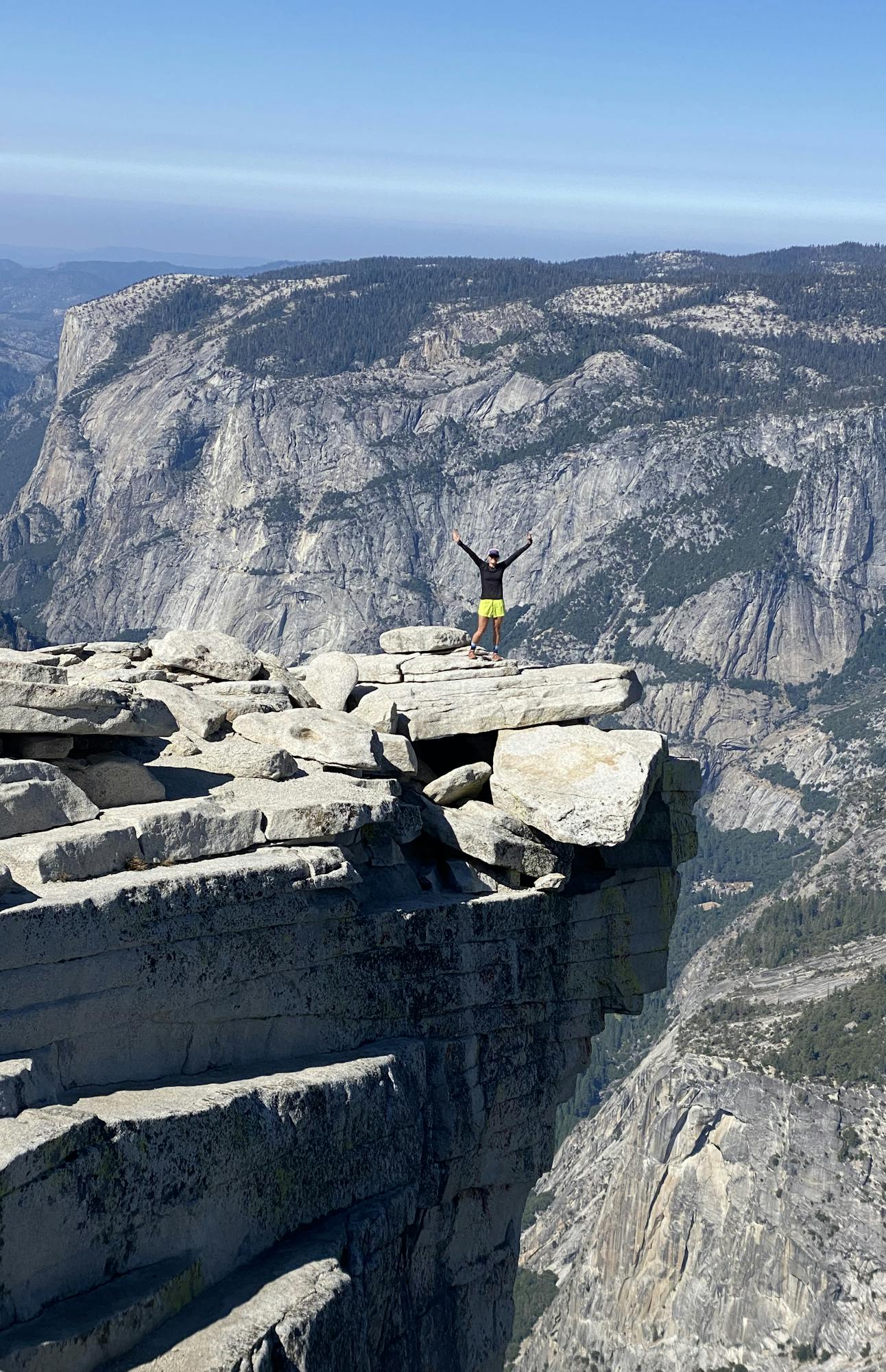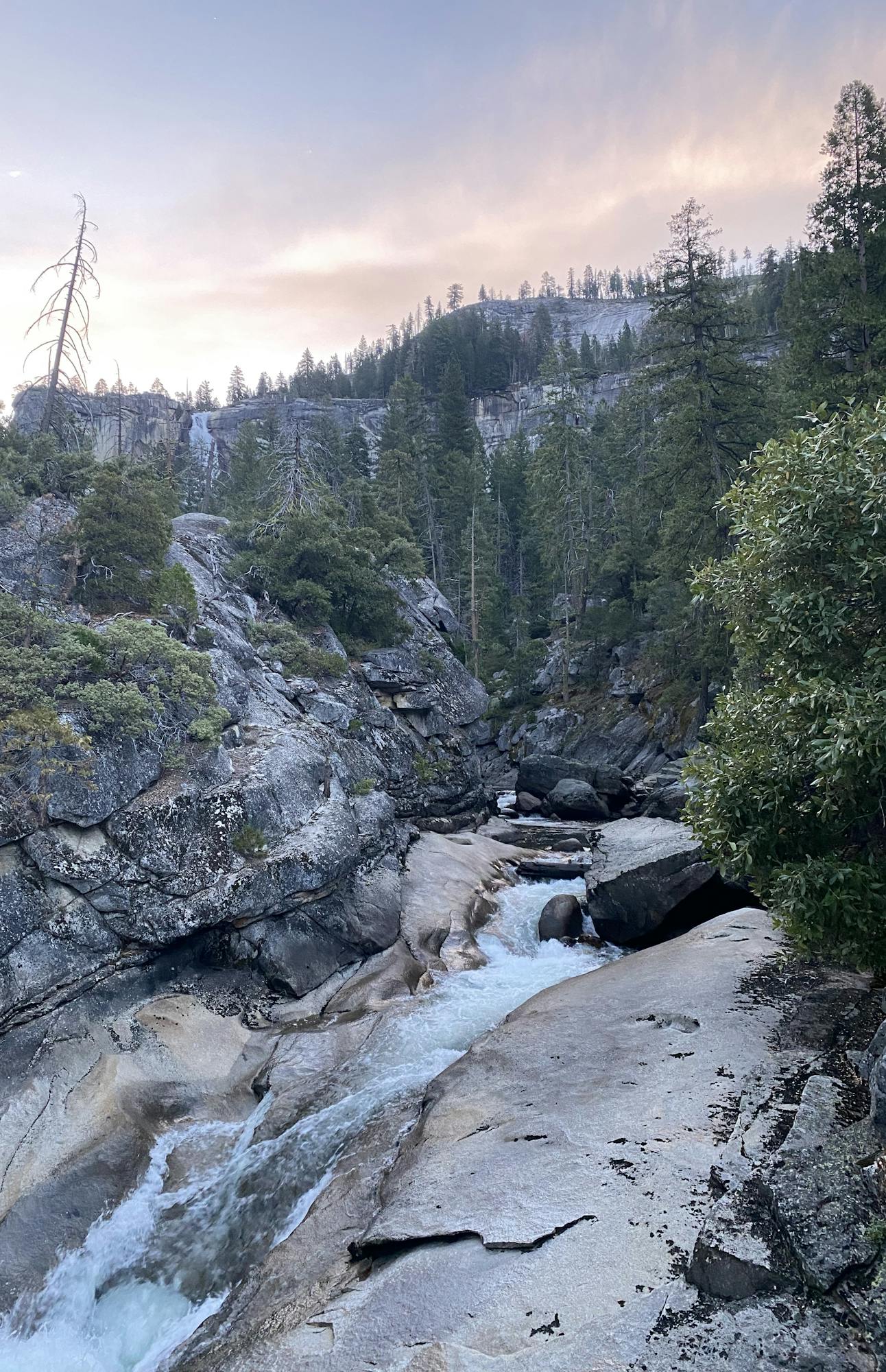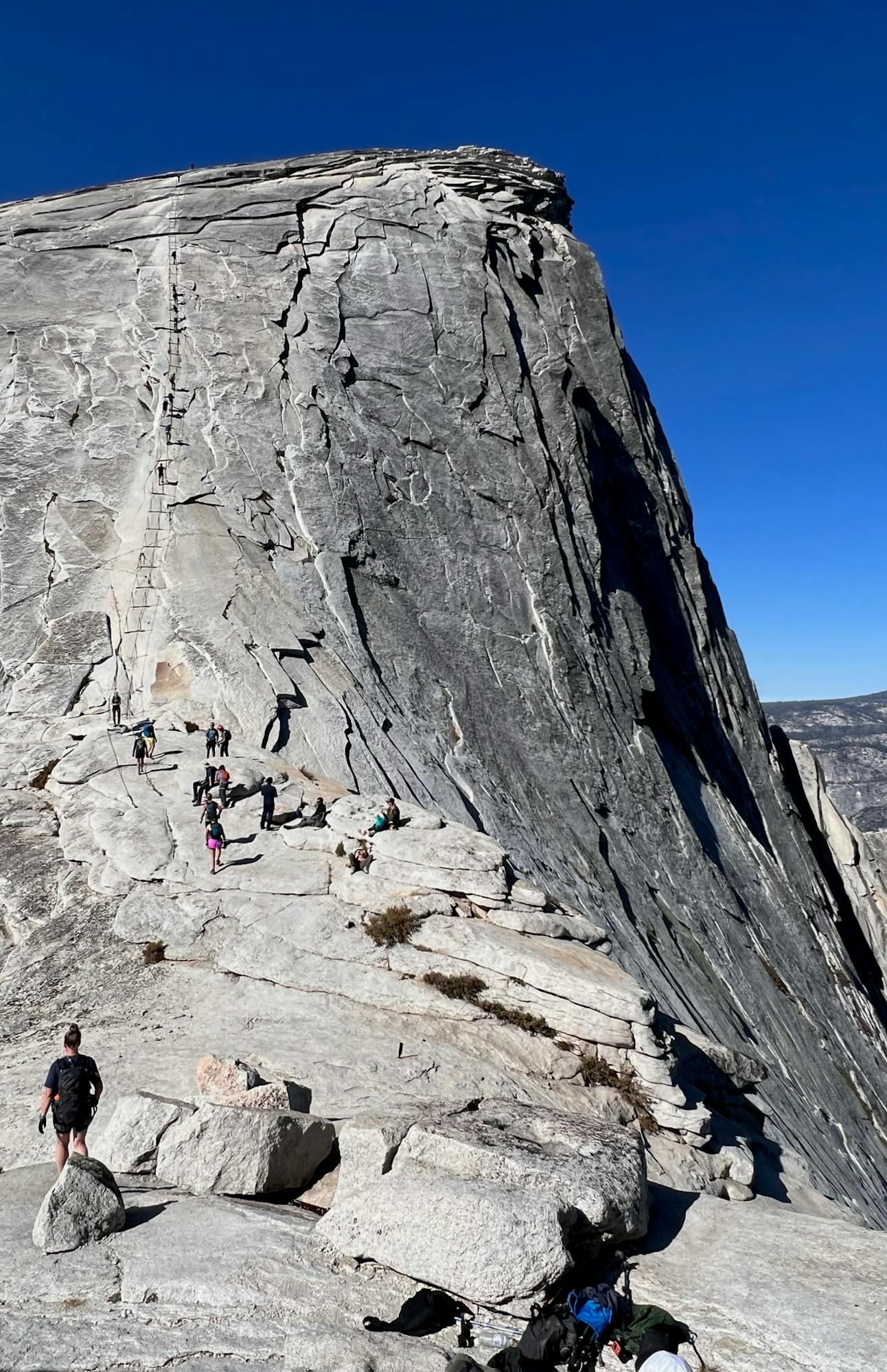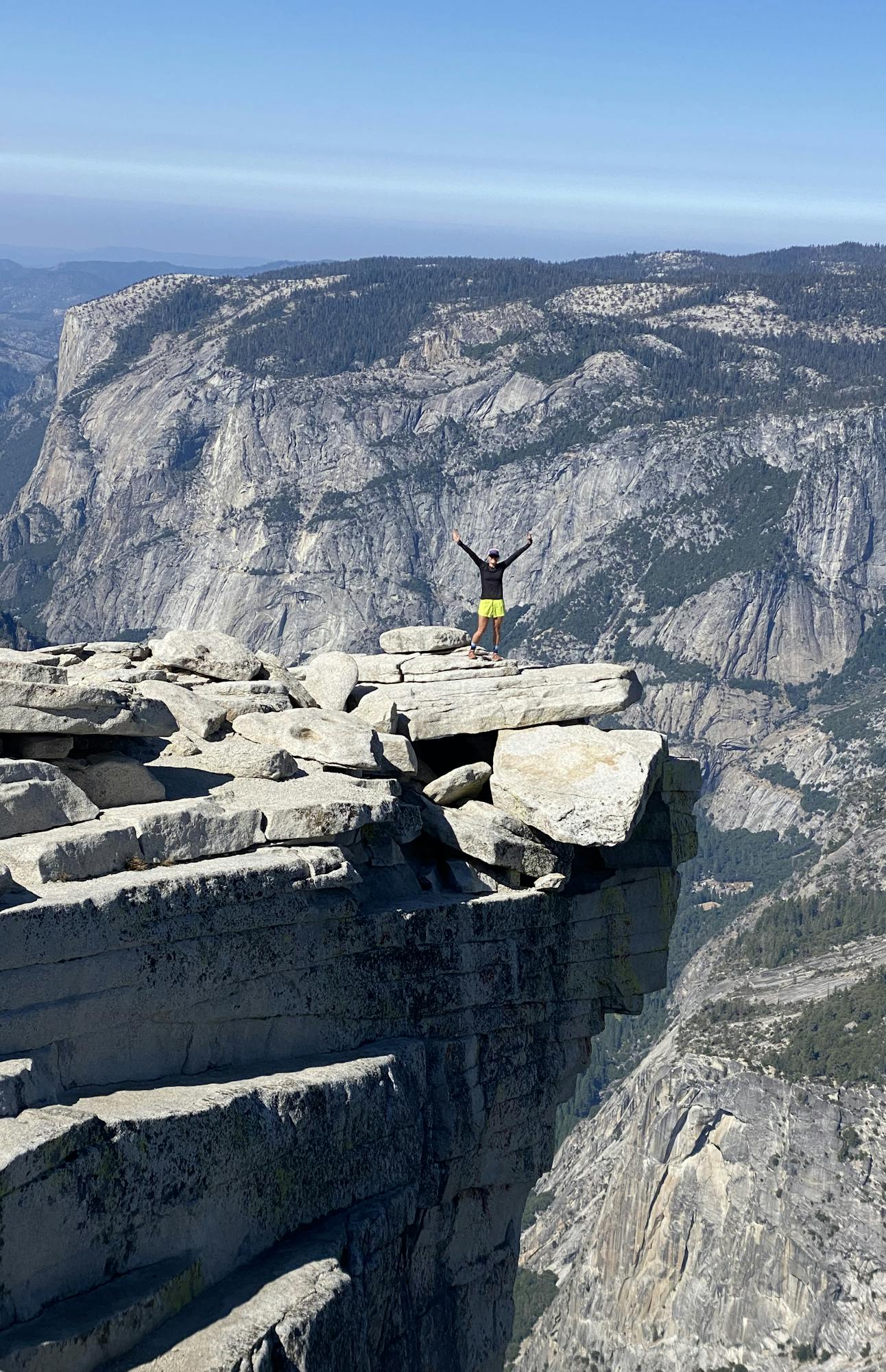 It was an amazing day with amazing people and a day I will cherish forever. It was the third time for me to summit Half Dome and it was the first time for the rest of my group. I love being outdoors and being in places that make me feel small. Yosemite is such an incredible place with so many different terrains and geological features! In the few days we were at the park, we hiked close to 30 miles. I love being able to disconnect like this and wish I could do it more!