Meet The Winter Home Team
2 Min Read
At Stio, we live the mountain life and are fueled by the moments that come with it—the experiences worth sharing. This winter's home team is filled with outdoor advocates and aspiring athletes, skiers and snowboarders, avalanche educators and more.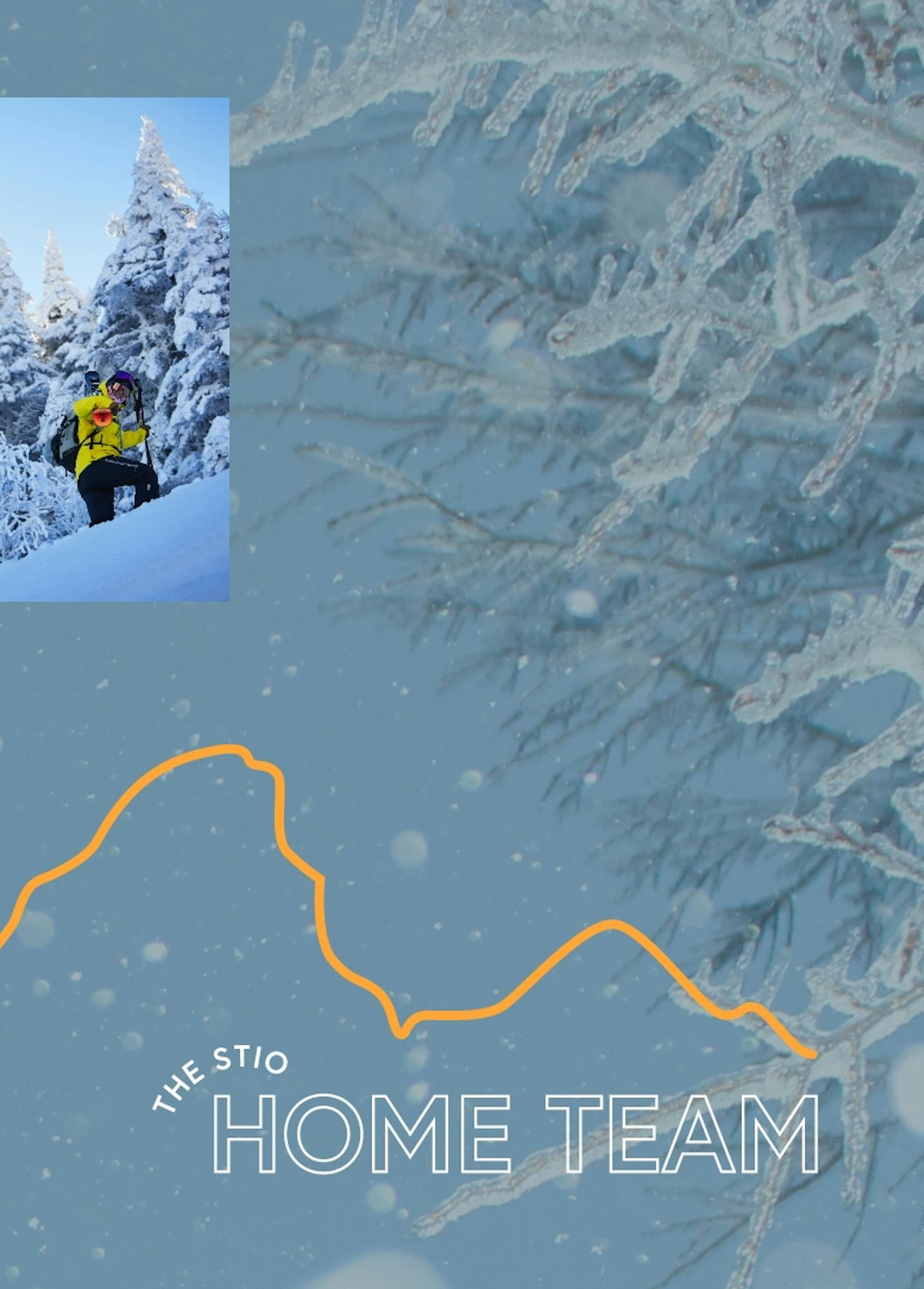 Being on the Home Team means having a passion for exploring the outdoors and actively sharing stories about those experiences, whether through words or photos or videos. Throughout the season, the Home Team shares stories from their epic and everyday adventures on social media, follow along @stio.










Annie Henderson | She/Hers | @annie_hendy
Environmental Educator, Nonprofit Founder | Vermont
Annie has built her life around being outside, balancing pursuits as a graduate student, environmental educator and founder of the nonprofit Yew Crew, a Vermont-based organization that increases access to mountain biking. She dreams that by helping more people engage with the natural world, we will all learn the importance of protecting it. Being outside isn't just about an adrenaline rush, but also about connecting with herself, loved ones and the land. Annie is often in the backcountry skiing, trail running and mountain biking with her dog, Agnes, in tow or fly fishing in the Green Mountains of northern Vermont, where she calls home.
"Being outside isn't just about an adrenaline rush, but also connecting with myself, loved ones and the land."
Caitlin Kelly | She/Hers | @caitlinelizabethk
Writer, Ski Patroller, Forest Ranger | New York
Originally from Maine, Caitlin has called the Adirondack Mountains home since attending college in Upstate New York. Now, she builds community through her work with Women of the Adirondacks, an Instagram community that highlights women in the region and plans group outings throughout the Adirondack Park. She splits her time freelance writing and ski patrolling at Whiteface Mountain. Caitlin contributed to the region's need for avalanche forecasting by cofounding The Adirondack Community Avalanche Project, a crowd-sourced avalanche, weather, and snowpack observations website. Her writing has appeared in Powder Magazine, Adirondack Life Magazine, Freeskier, The Ski Journal and Ski Magazine, among other publications.
"If you sit too close to me on a chairlift, you may get glitter on you."
Ted Wardlaw  | He/Him | @tedwardlaw
Big Mountain Coach, Adventurer, Father | Oregon
Ted grew up in the magical mountains of northern New Mexico, exploring the local backcountry and racing throughout the Rockies from a young age. After a stint skiing and racing in New England, he made his way West and started working in the ski industry. Ted eventually settled in Portland, Oregon and began exploring the volcanoes of the Cascades and beyond. This incubated a passion for sharing his love of the mountains with the next generation by developing big mountain programs for local ski teams. 
Today, Ted is a Big Mountain coach at Meadows Race and Big Mountain Team, an avid backcountry skier and an aspiring mountaineer. He spends his summers traveling, hiking, trail running, riding bikes and looking for new experiences and new friends to share them with.
"Exploring the Cascades incubated a passion in me for sharing my love of the mountains with the next generation."












Brian Walker | He/Him | @brian.walker
Photographer, Skier | California
​​Born and raised in in South Lake Tahoe, from skiing to biking to climbing there isn't an outdoor sport that Brian's not passionate about. That love for the outdoors brought him to his career as a photographer and videographer—capturing these amazing activities in beautiful locations.
"From skiing to biking to climbing, there isn't an outdoor sport that I'm not passionate about." 
Erin Martin  | She/Hers | @erineaj
Paralympian, Nurse | Washington
Erin is passionate about exploring the range of outdoor activities available to her as a disabled athlete. A member of the U.S. Para Nordic Development Team, she trains year round for para Nordic skiing and biathlon competitions and has traveled and competed all over the Mountain West, Europe, Canada and Asia. In 2022 she had the honor of competing for Team USA at the Beijing Paralympics in Para Nordic Skiing. Getting outside and being active fulfills her sense of adventure, brings her joy and has been a huge part of embracing her disability. 
While training, she spends as much time as she can outside, whether it's handcycling, Nordic skiing, adaptive mountain biking, mountain boarding, kayaking or fly fishing. She also works part-time as a nurse at Seattle Children's Hospital. She believes that outdoor recreation should be available to everyone and is working to increase accessibility at her local Nordic ski area in Washington. 
"Being active outside fulfills my sense of adventure, brings me joy and has been a huge part of embracing my disability."
Sarah Toal & Family | @sartoal
Snowboarding Family | Wyoming
We are the Toal Family from Jackson, Wyoming: Sarah (mom), Evan (dad), August (8) and Harper (6). Our kids have been standing sideways since they were about 18 months old. We are a snowboarding family and spend as much time as possible riding together. In the summer time we enjoy floating the Snake River, mountain biking and camping. Getting outdoors with little ones is no easy feat (ask any parent) but our mindset is that parenting outdoors is way easier (and more fun) than a day spent inside! 
Sarah is passionate about helping families with young kids get outside and is a part of the Tales of a Mountain Mama team, which shares everything from gear reviews to tips on how to actually get kids out the door for an adventure. 
"Getting outdoors with little ones is no easy feat, but our mindset is that parenting outdoors is way easier (and more fun) than a day spent inside!"










Morgan Smalley | She/Her | @mksmalleyart
Artist, Ski Mountaineer | Washington
Morgan is a Washington-based abstract visual artist who draws inspiration from backcountry ski mountaineering adventures and time spent on the lakes and waterways in the Puget Sound. Morgan is deeply passionate about the arts and for the past few years has volunteered her time on the Board of Directors for the Edmonds Arts Festival Foundation, a cause that provides scholarships, grants and funds public artworks in her hometown of Edmonds, Washington. 
Between art shows, Morgan creates content for several brand partners who are dedicated to environmental and social action. In her free time, Morgan goes skiing with her dogs and fiance, painting in her gear room or sipping whisky by a campfire somewhere deep in the woods.
"I draw inspiration from backcountry ski mountaineering and time spent on the lakes and waterways in the Puget Sound."
Marty Rood  | He/Him | @martyroodppg
Ski Guide, Trip Operator | Idaho
Born and raised in Idaho, Marty has lived full time in the West Central mountains for decades and spent his entire career in and around the ski world. He started with 12 years at Brundage Mountain Resort as an alpine and telemark ski instructor, as well as directing the resort's Snowsports School. Marty later shifted his focus to snowcat ski guiding at McCall, Idaho's Tamarack Resort. He's taught avalanche education throughout his career and helped create the Friends of the Payette Avalanche Center, working for several seasons as an avalanche forecaster. To top it off, Marty owns and operates Payette Powder Guides, offering guided backcountry tours, multi day yurt trips and AIARE avalanche education in the McCall area.
 "I love helping others have unique mountain experiences while venturing to Idaho's backcountry in winter."
Mel Hampton | She/Her | @melhamps
Marketing Manager, Snowboarder | Utah
Mel Hampton grew up in Connecticut, skiing and riding under the lights at Ski Sundown in New Haven. The dream of steeper slopes and better snow led her first to the White Mountains of New Hampshire. From there, Mel's passion for mountain sports drew her west to Park City, Utah, where she landed a job in the marketing department at Park City Mountain Resort. In this role, Mel is able to live and work where she plays and hasn't looked back. She's constantly in search of her next adventure with her eyes fixed on the mountains.
"I feel most fulfilled when I'm pushing my boundaries on my board or bike, and my definition of relaxation is a PBR in a camp chair."  
Follow the Stio Home Team adventures on instagram with the hashtag #stiohometeam.
If you're interested in joining the Home Team, stay tuned for the next application period opening in April.
Top Stories
Check out all the Top stories
Follow us @stio
See how people are living the mountain life everyday in our gear.