The Allure Of Southwest Turns
Words and Photos by Evan Green | 8 Min Read
Skiing in the Southwest isn't like skiing anywhere else. When Santa Fe resident Sean Horner revisited his local mountain with his sister for a weekday dawn patrol, he rediscovered the enchantment and simplicity that drew him to the region in the first place.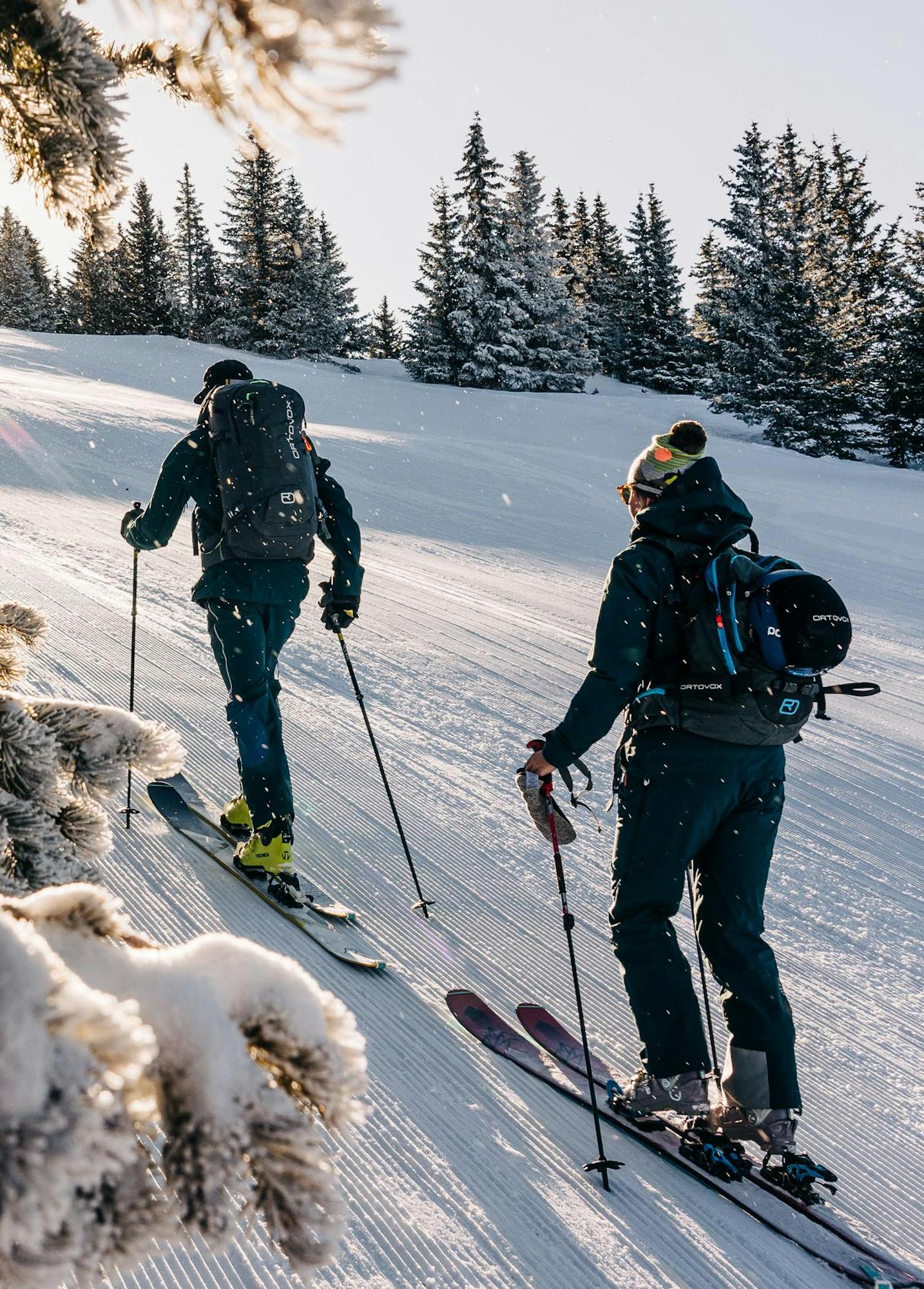 Photos by Evan Green
It's Late March in New Mexico as Sante Fe local Sean Horner winds his pickup around switchbacks headed up the Sangre de Christo Range. On this particular Friday morning, a rare inversion event blankets the high desert at sunrise as Sean heads to Ski Santa Fe for a dawn patrol skin up the mountain before work. Sean is accompanied by his sister Megan, in town from Boulder CO to finalize a wedding venue in the Land of Enchantment, and his powder-loving yellow lab, Bode. The trio gears up in the parking lot of the ski hill and begins to tour up the mountain as the chairlifts sit still in the morning air. With an average snowfall of 225" a year Ski Santa Fe often offers Sean the simple joy of fresh turns just 30 minutes from home. With Bode alongside, Sean shows his sister around the place pointing out secret stashes as they meander up the empty runs lined by aspens and evergreens.
 Ski patrol buzzes around doing final safety checks to open the mountain, as Sean, Meagan, and Bode reach the peak at 12,000 feet. They exchange "Good mornings" with some fellow skiers finishing their transition and everyone nods in thankful agreeance at the mention of the resort's gracious uphill policy before parting ways. Sean and Megan layer up, rip skins, and buckle down boots while Bode sits alongside eagerly wagging his tail in anticipation. Clicking into bindings, the siblings that grew up skiing together reconnect over the simple fun of arcing carves down the mountain. Their edges slice through the snow, refreshed by a recent spring storm cycle, as they grin and laugh with child-like joy. There's something special about skiing in the Southwest, the prestige and excess are stripped away, creating a deeper connection to the sport and landscape. The roots of skiing are still alive and well here.
Sean and Megan wind their way down the hill with Bode bounding alongside. Taking time to enjoy the turns they earned before returning to the base. The sound of the chairlifts starting to spin hums in the air as the three load back into the truck and return to town, watching the low cloud cover dissipate into the morning light. Thanks to Santa Fe's proximity to the mountains, Sean and Megan manage to log on to their computers before 9 AM and enter the end of their work weeks feeling energized thanks to a dawn patrol filled with fresh air and fun turns; the simple things go a long way.
Top Stories
Check out all the Top stories
Follow us @stio
See how people are living the mountain life everyday in our gear.