Dirt Culture Dynamics
Words by Dan Kostrzewski, Photos by Jay Goodrich | 5 Min Read
Radical Thinking that Shaped a Greater, Gravity-Fueled Community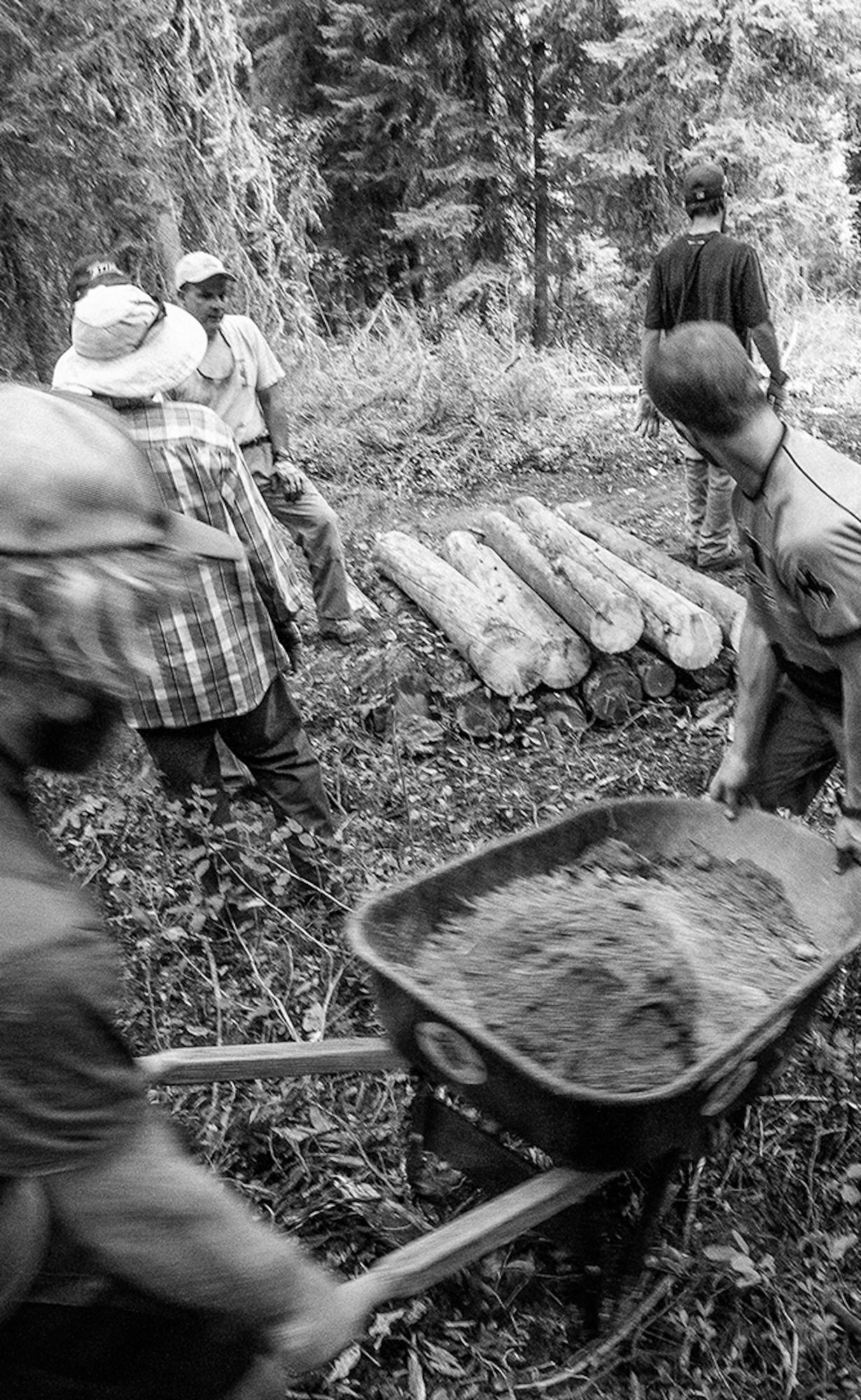 Photos by Jay Goodrich
The crank of a banked berm. The reward of an uphill grind. The feel of sticky dirt under new rubber. The float of launching yourself into the air and sticking the landing. The split second of rolling into a technical section. For many of us, mountain biking has become not just an exercise but an addiction, one that's taken over as our primary summer passion in the mountains.
From sufferfests and festivals to enduro races or kid's programs, dirt culture has exploded but also diversified and democratized during the last decade. It's also interwoven itself with the fabric of our towns. Whether on local networks or in legendary destinations, visitors and locals alike rack their treasured bikes to rip around hometown trails so famous or familiar we all speak about them by name. It's been a tidal wave of popularity that's changed not just where we can ride but the entire dynamic of how our communities draw energy from our trails.
For many of our towns, the rise of mountain biking to the primary summer gravity sport hit quickly. Driven by a rise in purpose-built trails and a radical progression in geometry, suspension and componentry, our two-wheeled pursuit has become how the freeride majority chases adrenaline in summer. Access is everywhere with bike parks, pump tracks and flow trails the new normal and expansive trail networks radiating out from nearly every mountain town.
Yet this pro-bike nirvana was not always the case. In the late nineties and early aughts, conflict was rampant with land managers banning access nationally, friction between sufferfest XC riders and full-faced downhillers over the right way to ride, and many traditional outdoor users seeing two-wheeled traffic as a threat to the natural order on our trails. It seemed way more likely that gravity biking might get banned forever than evolve toward its current state of booming status.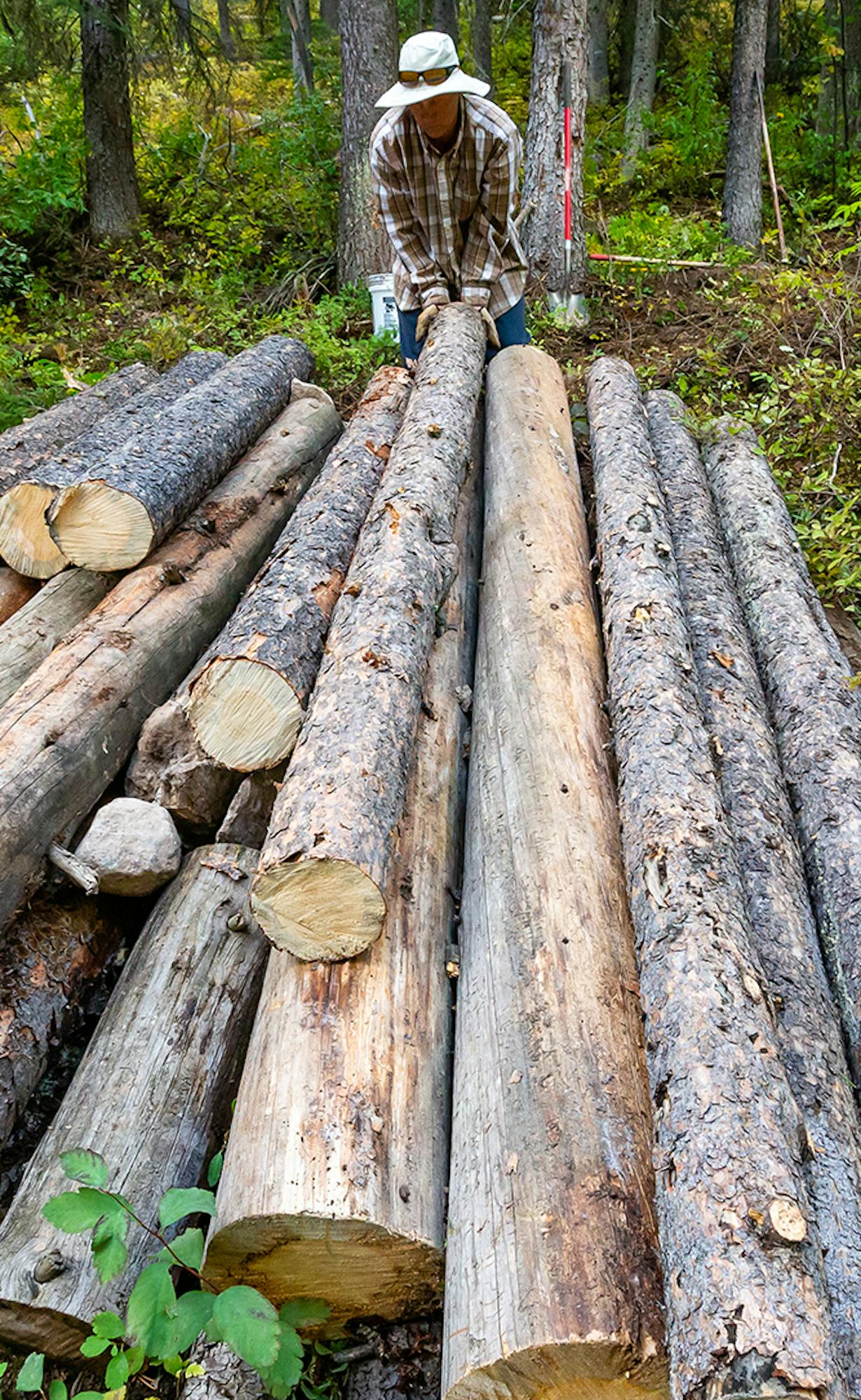 Yet our reality of trail networks at every turn was not inevitable and traces its roots to a deeper idea of partnership over confrontation. Back in the early days—up on Teton Pass—unsanctioned building and gravity-fueled usage was on the rise with conflicts spiking and user groups speaking out. The catalyst for a change in attitude and acceptance came from an unlikely case study in conflict resolution in our own Jackson backyard. 
"It was all happening because we saw an increase in user related activities…and on top of that mountain biking was surging in popularity on the cross country front and we were literally a single-digit number of guys building these illegal trails," recounts Kevin Kavanagh, a founding member of the Teton FreeRiders advocacy org, about the early aughts crux on Teton Pass.
"People were going to the Forest Service and saying here are these guys exiting Black Canyon and they look like Star Wars guys," he recounts. "They've got these helmets, goggles, body armor. They look crazy... We don't care what they do, we just don't want them on the same trails."
While that attitude persisted, the Forest Service could see a future where both conflict and demand for access increased—leading to an uneasy future and a massive undertaking. "The forest service saw the big picture of this thing and knew that resisting it would be futile and they didn't have the manpower or the dollars to police it and they wanted to make it work," Kavanagh says. "And they saw a group of men and women that wanted to do this and were willing to get organized and make it happen."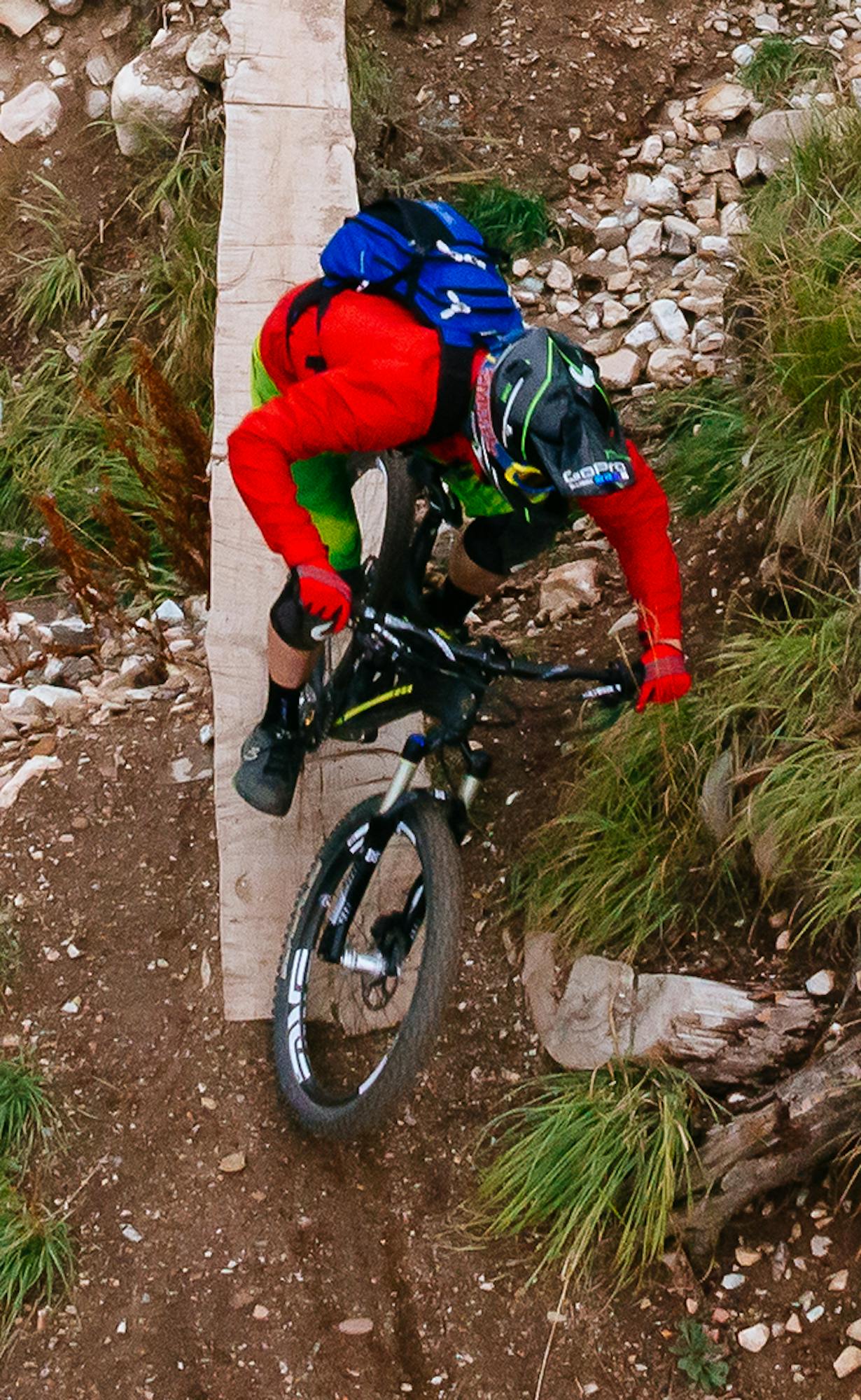 In an effort spearheaded by Linda Meriglinao of the Bridger-Teton National Forest, the trail builders were offered amnesty if they organized, cooperated and compromised to separate out user groups. As a result, Kavanagh and Harlan Hottenstien formed the Teton FreeRiders as a nonprofit and soon spearheaded the effort to turn a trail network that started out as underground and illegal into legitimate and world-class through a federal seed grant, a paid trail crew and a whole lot of sweat equity.
Giving up something—including some of the illegally built trails—they slowly built mutual trust, and provided their trail-building labor, in an effort to reduce conflict and shift in a direction of purpose-built and adequately maintained trails. Conflict was averted and attitudes shifted, resulting in the first user-specific trail network in the US Forest Service system.
To say the partnership model worked is an understatement. 
As the dirt culture thrived locally with protected places to ride, the Teton region attained a coveted IMBA silver level designation that elevated the region's riding stature. The community continued reaping and ripping the reward all while Kavanagh was getting calls from other towns to understand how the collaboration riddle had been solved—with Jackson becoming a national model for trail development and preservation as a local, community resource.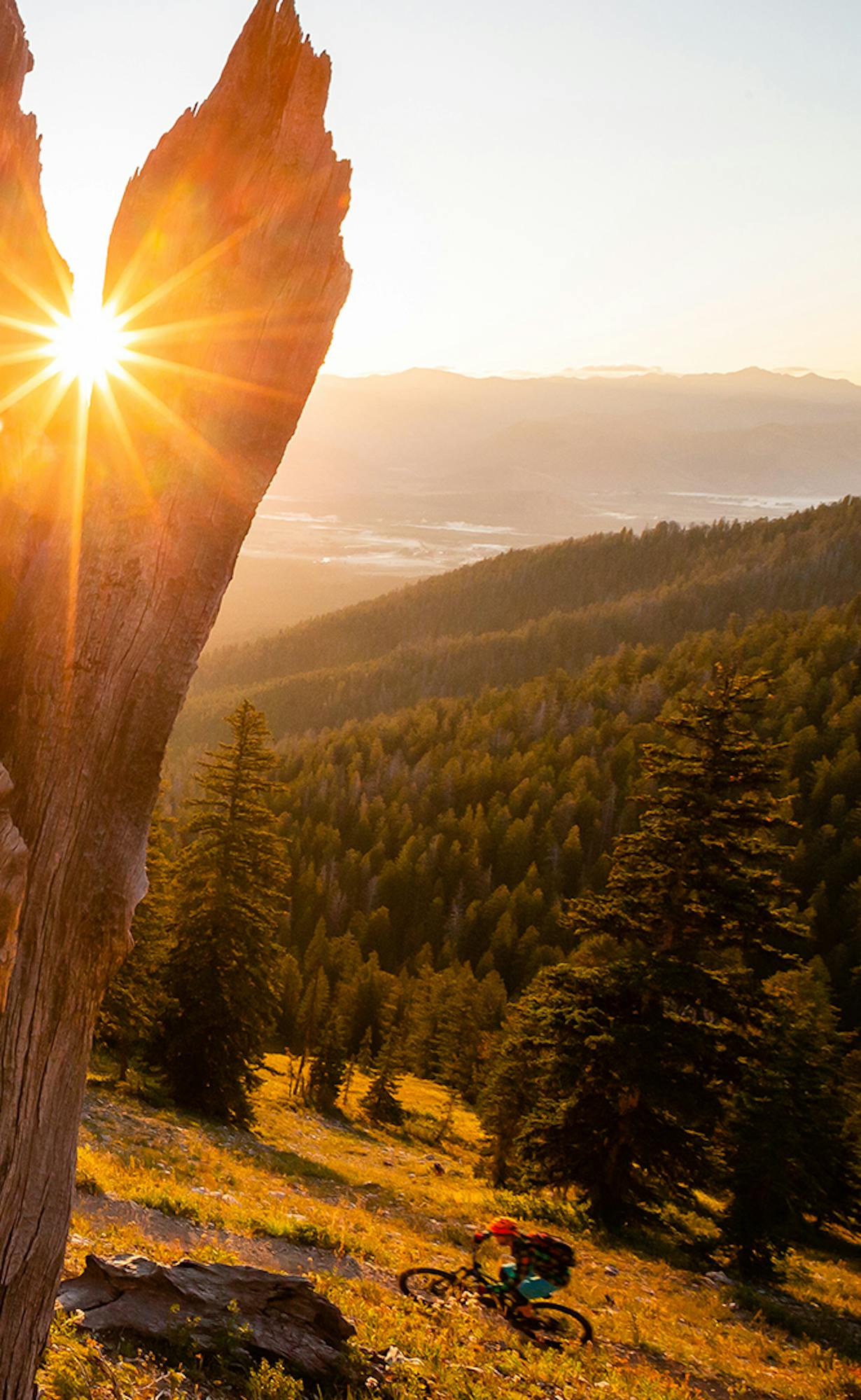 Today, just a few miles from Stio HQ, the Teton Pass trail network is recognized as an epicenter of gravity with world-famous trails such as Lithium resonating far and wide. Closer to town, local nonprofits have buffed, maintained and expanded a significant network of Cache Creek trails for afterwork fun and fitness. Over the hill, in the Big Holes, trails are currently being shaped and shifted, providing a massive canvas for fun flow trails and e-bike access. Youth programs are exploding locally with two NICA high school programs engaging more and more kids in the sport.
Like many towns on a similar singletrack, the combination of access and culture is now a regional draw not just for armored-up dudes, but entire families and migrating van lifers who roll into town with stacked bike racks and out-of-state plates. Both destination ski areas—JHMR and Grand Targhee—host extensive lift-access gravity networks and reap the tourism rewards. And the local buffet of lift, shuttle and pedal up options draws swarms of dirt-driven visitors with a huge positive economic impact on the summer recreation economy.
Locally the initial effort on the pass sparked and shifted attitudes and momentum—pairing up with wider forces such as leaps in mountain bike technology that both lead to more bikers, massive cultural growth and a hunger for more places to ride. At the same time the prevailing style of shredding shifted in a more gravity-fueled direction, sparking cultural desires for true purpose-built trails, a massive shift toward enduro-style bikes and a relentless pursuit toward the glory of the down. As it has evolved and expanded, dirt culture has thrived.
In the decade since the Teton region's IMBA designation, many mountain towns have taken the collective good thinking a step further. In Park City, a portion of the lodging tax pays for the building and maintenance of mountain bike trails. In Fruita, a collective effort between the BLM, Americorps, the local MBTA, local businesses and the county funds a trail crew effort.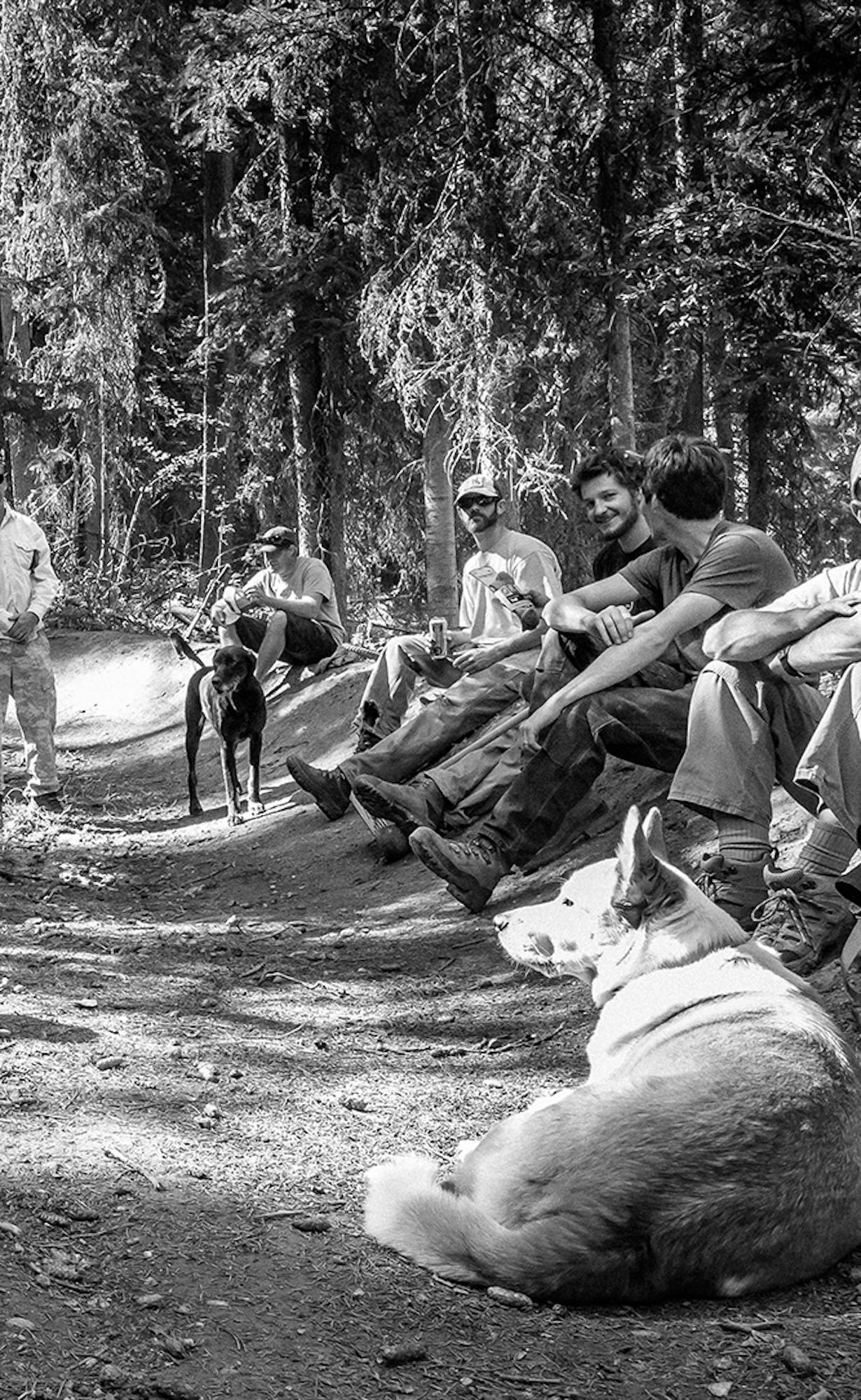 In one of the biggest examples of trails as community transformation, Oakridge, Oregon invested heavily in shaping, expanding and promoting a 350-mile mountain bike trail network as a method of transitioning away from a struggling timber-based economy. Trail building through their local nonprofit has transformed that community with mountain bike tourism now providing a direct economic benefit estimated at between $2.5 and $5 million per year.
Back in Jackson, like mountain towns across the country, the mountain bike community is both established and surging—not just an activity but a force for community, culture and the local economy. Where the rubber hits the dirt is the growth and embrace of mountain biking we see whether heading out for afterwork laps, riding gravity on the ski hill lifts or pedaling the original trails up on Teton Pass that turned out to be the catalyst for all the positive change.
The Teton FreeRiders were not alone, but they were one of the first to abandon confrontation for legitimacy, to prove out the theory of collaboration. Yet many towns have surpassed the grassroots, nonprofit model with dedicated revenue sources, business partnerships or tourism org backing for trail development and maintenance. Unlike ski lift tickets, fishing licenses or recreation passes, few places link our individual rider days to a direct flow of revenue back to the orgs that build and maintain our trails.
In Jackson, maintaining that flow of funding has depended primarily on the generosity of the local community. "The government funding for recreation and trails dried up here because they expected us to get our kick start and then pick up on our own," reflects Kavanagh who has volunteered tens of thousands of his hours over three decades. "We never would have existed if the Forest Service had money, we filled the labor void."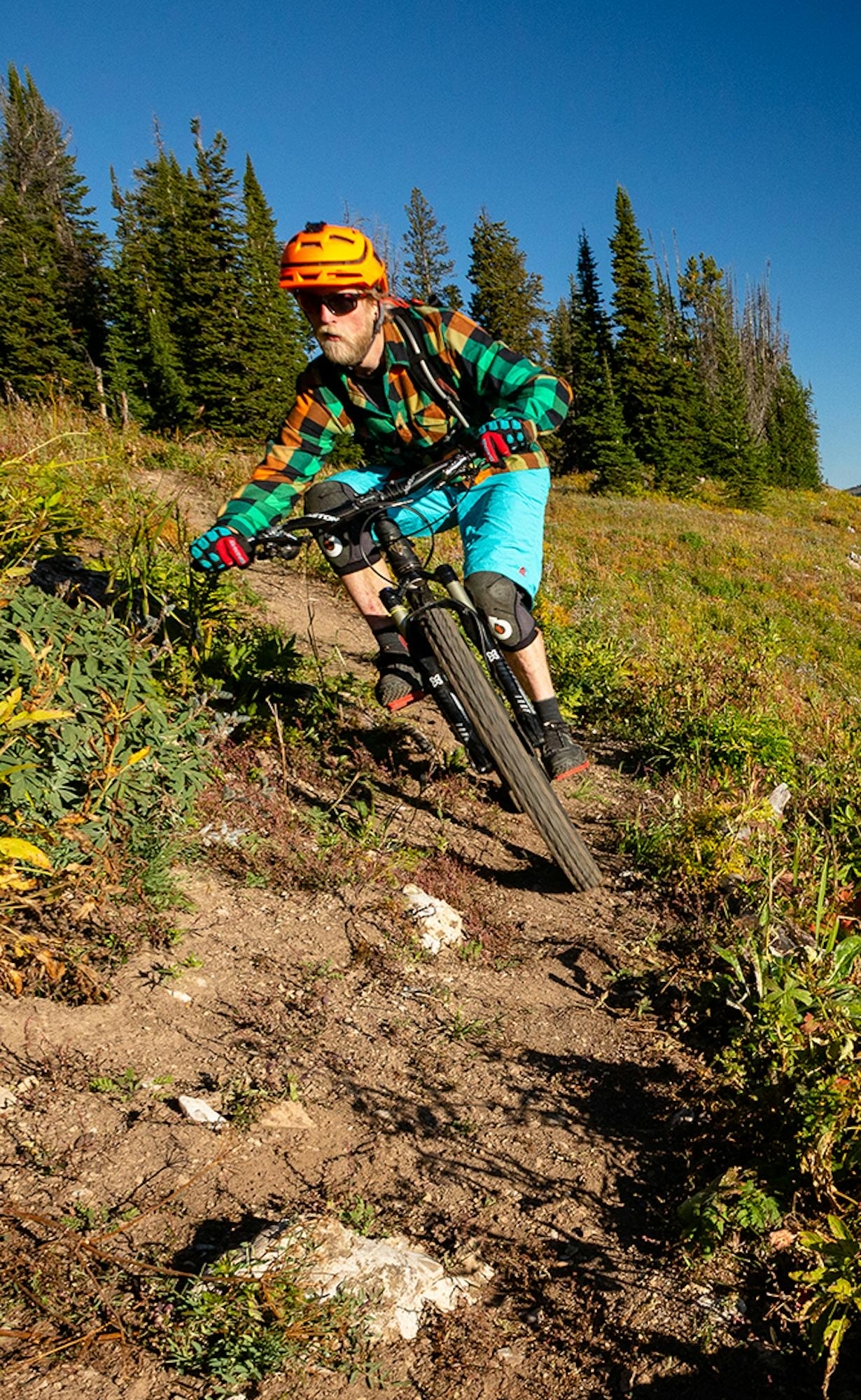 The Jackson Hole Trails Consortium, a spinoff effort to partner with local businesses, fills part of the funding equation, but it's an unpredictable and tenuous balance to keep the lights on. This dynamic results in a season-to-season uncertainty and a constant grind to keep the trails in prime shape, especially as usage dramatically climbs. It also depends on the countless donated hours of volunteers who are giving back to our community and dirt culture with their time and effort.
Most of us don't think about it when we ride, but we owe a massive debt to these founders and the diggers who have poured their hearts and souls into building, shaping and legitimizing our local trails. It's a massive personal investment of time and energy. Yet for them, there is also a reward in seeing what they have built far beyond just trail.
"What we have done for this community—the kids programs, the NICA, the urban interface to our natural resource, seeing families out there using our trails—we've built this whole thing where it has had nothing but a positive impact on this community," Kavanagh reflects.
"And that aggregates up to a national level where people then aspire to work with their land managers and organize like we did," Kavanagh summarizes. "What makes me most proud is the impact it has had on the families in our community. It's a healthy thing to do, it's a connection with nature. That's why we all live here."
"Each time I ride a Lithium, I'll say it out loud—" he concludes. "I'm so glad we built these trails. I'm so glad we did all this."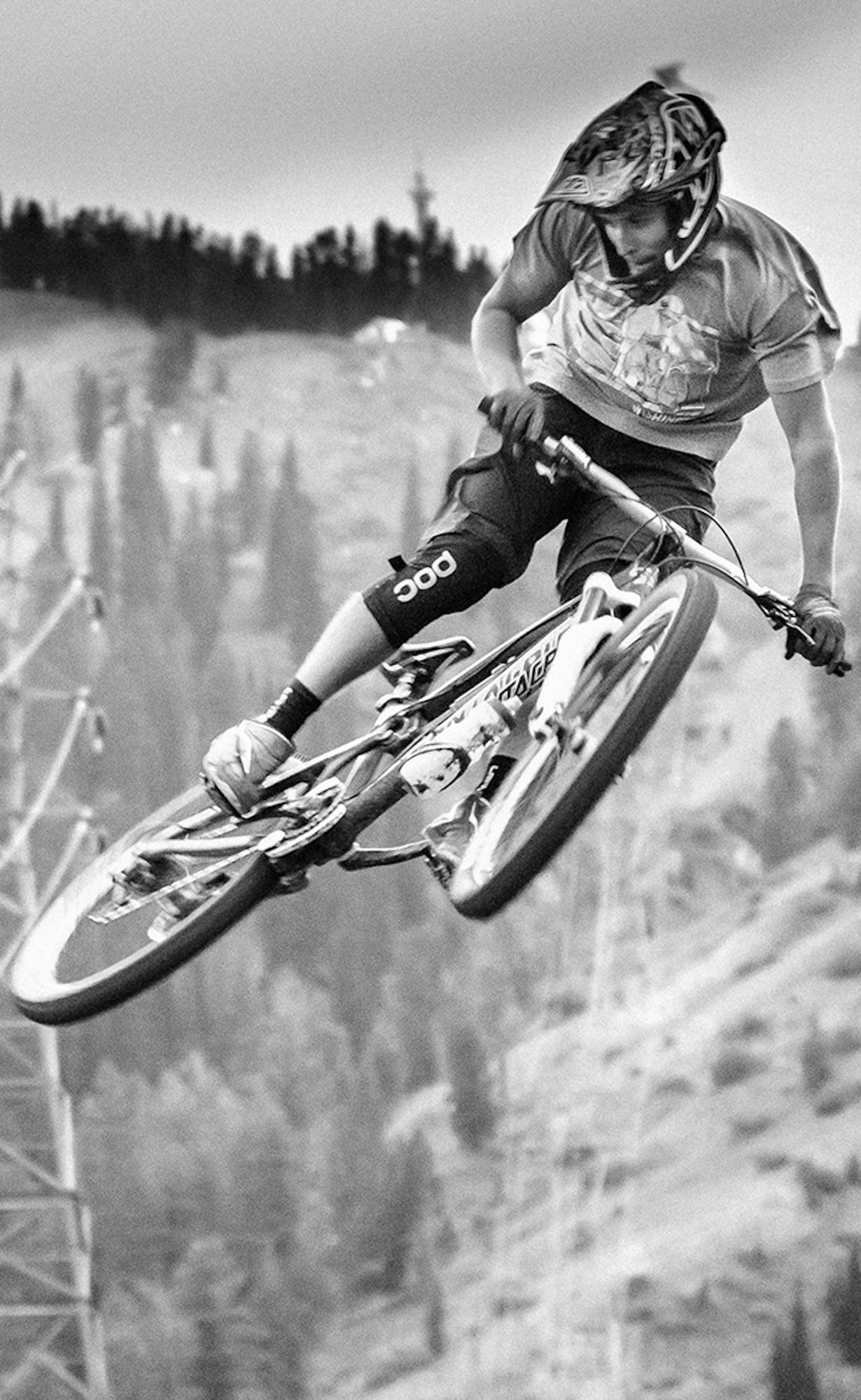 At Stio, we recognize that the incredible trail access we enjoy is not a right but a privilege—the result of hard work and even harder advocacy efforts from a select number of dedicated individuals and organizations in our towns who have poured their heart and soul into dirt culture. Without their work and their vision, we'd likely have no place to ride.
Top Stories
Check Out All the Top Stories
Follow us @stio
See how people are living the mountain life everyday in our gear.