Dirty, Cramped—And Nowhere They'd Rather Be
Photos by Tom Attwater
Driven by burnout to leave behind healthcare work and take to their van, Stephen Santiago and Aline Murillo found a path to restore their sense of peace through climbing.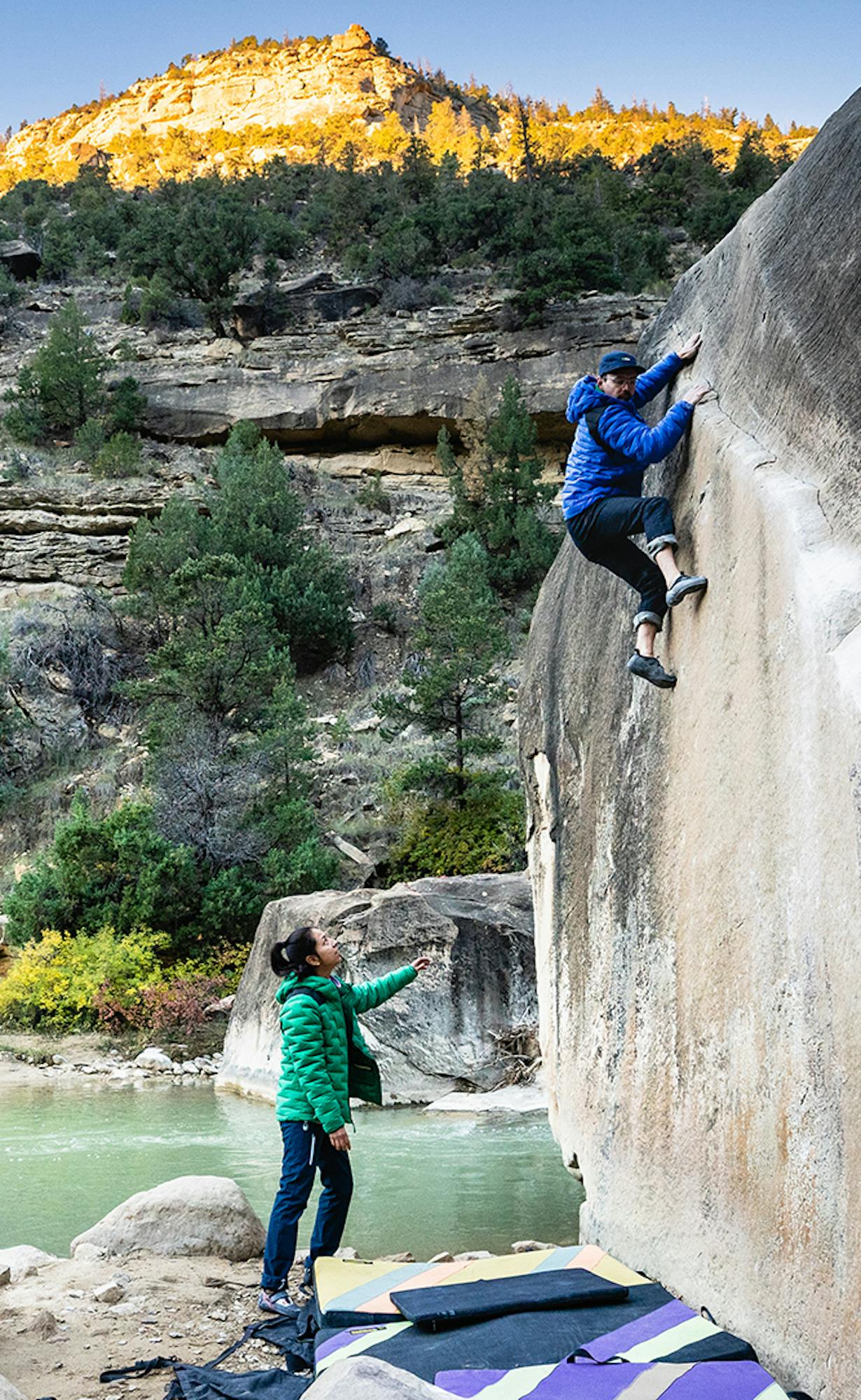 Tom Attwater
As I nervously gowned up to go into the negative pressure room, I asked the nurse what to expect. "There's a walkie talkie on the table, I'll be out here if you need anything," she replied. The room was filled with the sounds of beeping monitors and the whirring of a ventilator. My muffled voice spoke through my respirator, "Good morning. My name is Stephen. I'm here to help get you moving today." The patient, positive for COVID-19 and in the medical ICU, gave a frightened nod. I knew it was going to be a hard day and wondered how Aline was handling the same thing just a few miles away.
We both provided therapy services in major hospitals at the height of the pandemic. It was a difficult time to be a healthcare worker, a time that saw nearly 1 in 5 healthcare workers leave their professions. We had talked about our future and our goals to travel before. Maybe this was the push we needed.
We left our jobs in January 2021 to pursue van life. Our goal was to live with intention and reconnect with ourselves. We wanted to find tranquility in a world filled with chaos and constant notifications. We also wanted to climb.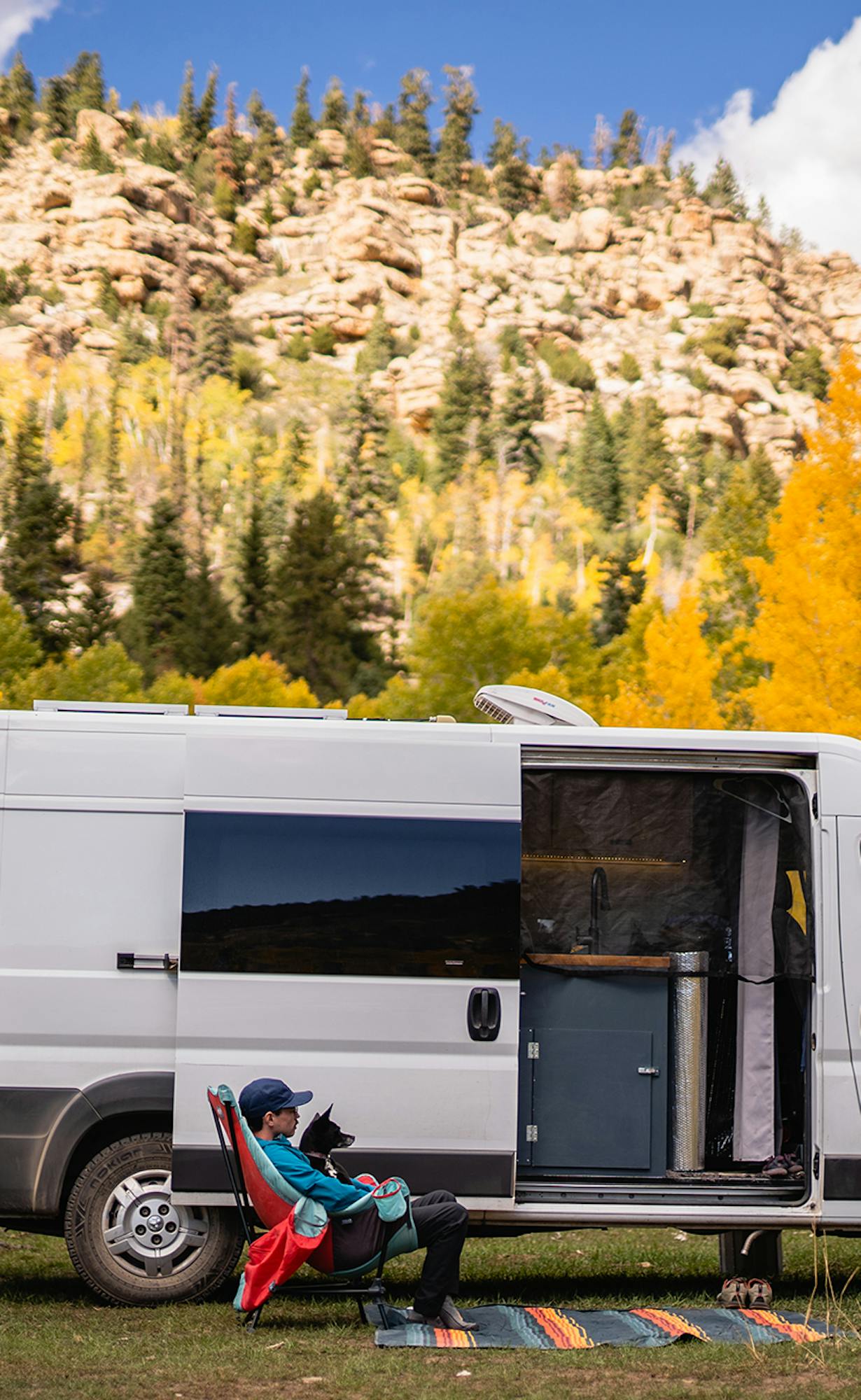 Sandstone boulders line the hillsides of Joe's Valley, which sits in central Utah a couple of hours from both Salt Lake City and Moab. Locals welcome and provide resources for visiting climbers thanks to the relationships built by the previous generation. It's become a dirtbag paradise and, for us, a place to escape and work toward our goals.
We woke up from the early morning light peering through our window shades. I slid open the door to let our dog out and the frigid morning air hit my face. I lit up the stove to start my morning coffee routine while Aline researched climbs for the day.
We drove up Left Fork and prepared to tread through the water at Riverside. We hadn't been back in nearly six months and hadn't touched real rock all summer. I tried warming up on Low Tide, an area classic, but felt clumsy and couldn't remember my beta. "Oh well," I said, "I'm glad we're back out here." We sat, peering down canyon as the light continued moving in. We listened to the water rushing over rocks around us. Our phones were elsewhere, maybe in the bag, maybe in the van. It didn't matter. These were the moments we loved about our lives.






We moseyed our way back to the van and made breakfast. Wondering how the aspens looked, we decided to head toward Dairy Canyon. We'd give a nod or a wave to the other climbers journeying through the canyons, which were filled with people looking for the same solace we were. We'd pass cattle grazing in open fields, occasionally letting us know they owned the roads.
We reached Dairy Canyon in mid-afternoon. A light wind rustled through the aspens and covered the ground with golden leaves. We were at least eight miles from cell service, but we had enough food and water for a few days; we decided to call this peaceful spot camp.
Social media tends to glamorize van life, but it's not the fairytale some make it out to be. It's dirty. It takes loads of planning. It causes you to sit alone in your thoughts for prolonged periods of time. There's no instant gratification in van life, which made our initial transition from city life difficult.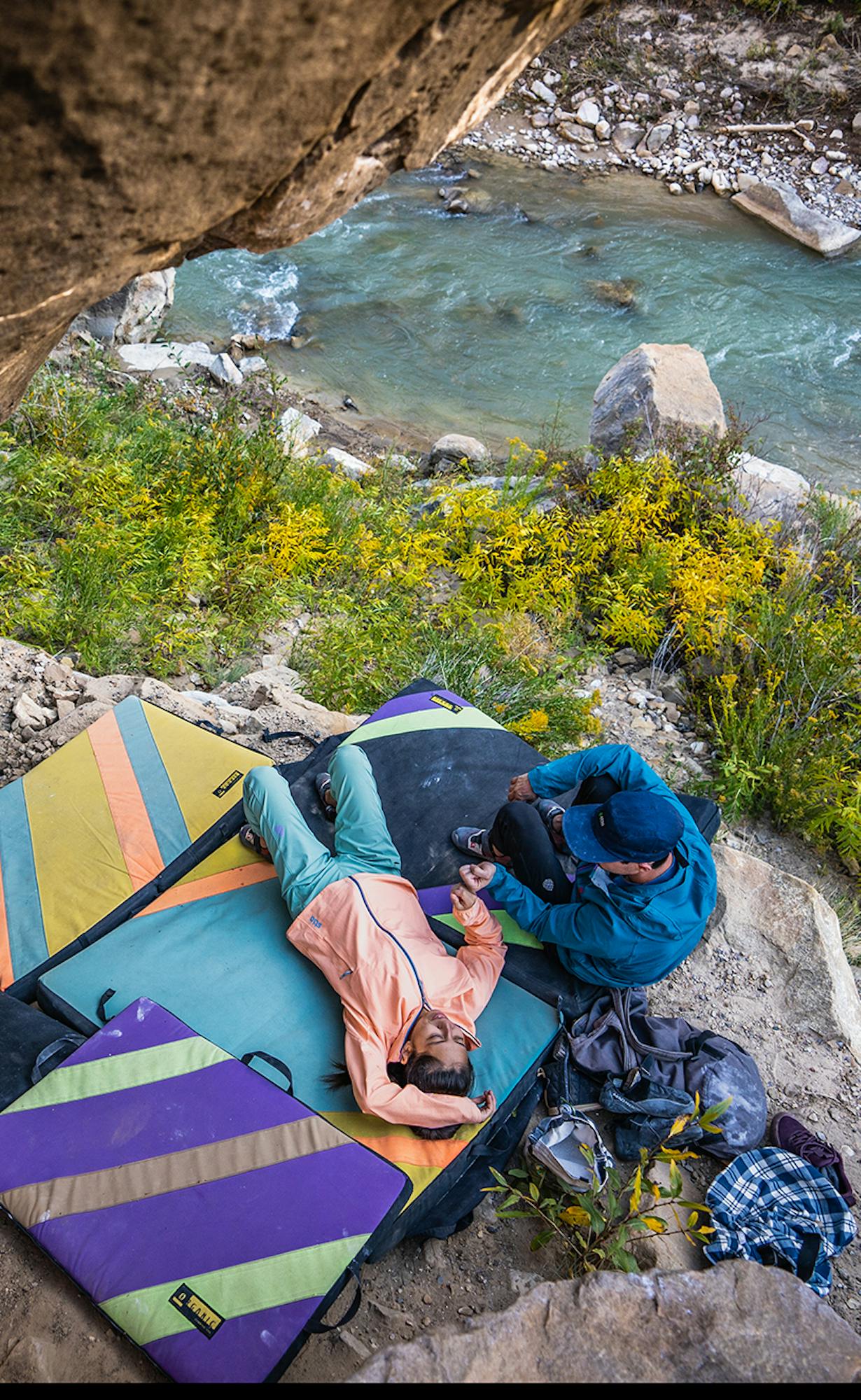 On this trip, however, we were dialed in. Over time we'd learned how to be content with ourselves, sitting in nature and disconnecting from the world. It's a unique feeling to live off the grid in a world filled with convenience. The beautiful thing about Joe's Valley and van life is the freedom of the outdoors. You are free to breathe the mountain air, spend nights under the stars be self-sufficient.
We woke up early the next morning to try a difficult project. I had spent a few sessions working on this climb while at my strongest in the spring, but knew it'd be a long shot this season. After putting in my best efforts and a few curse words, I accepted defeat for the morning.
Progress in climbing isn't always linear, but that adversity is part of our infatuation with it. We decided to head back to the van for a late breakfast, stomping through the fallen leaves on a faint trail downhill. The rest of the day remained unknown. There was no need to worry about tomorrow; we were living in the present. We were living in peace.
Top Stories
Check Out All the Top Stories
Follow us @stio
See how people are living the mountain life everyday in our gear.