Mountain Biking Essentials with Abby Stanislaw
Stio Home Team Member and physical therapist Abby Stanislaw dives into what to pack for mountain biking, so you can hit the trails with confidence and make the most of your ride.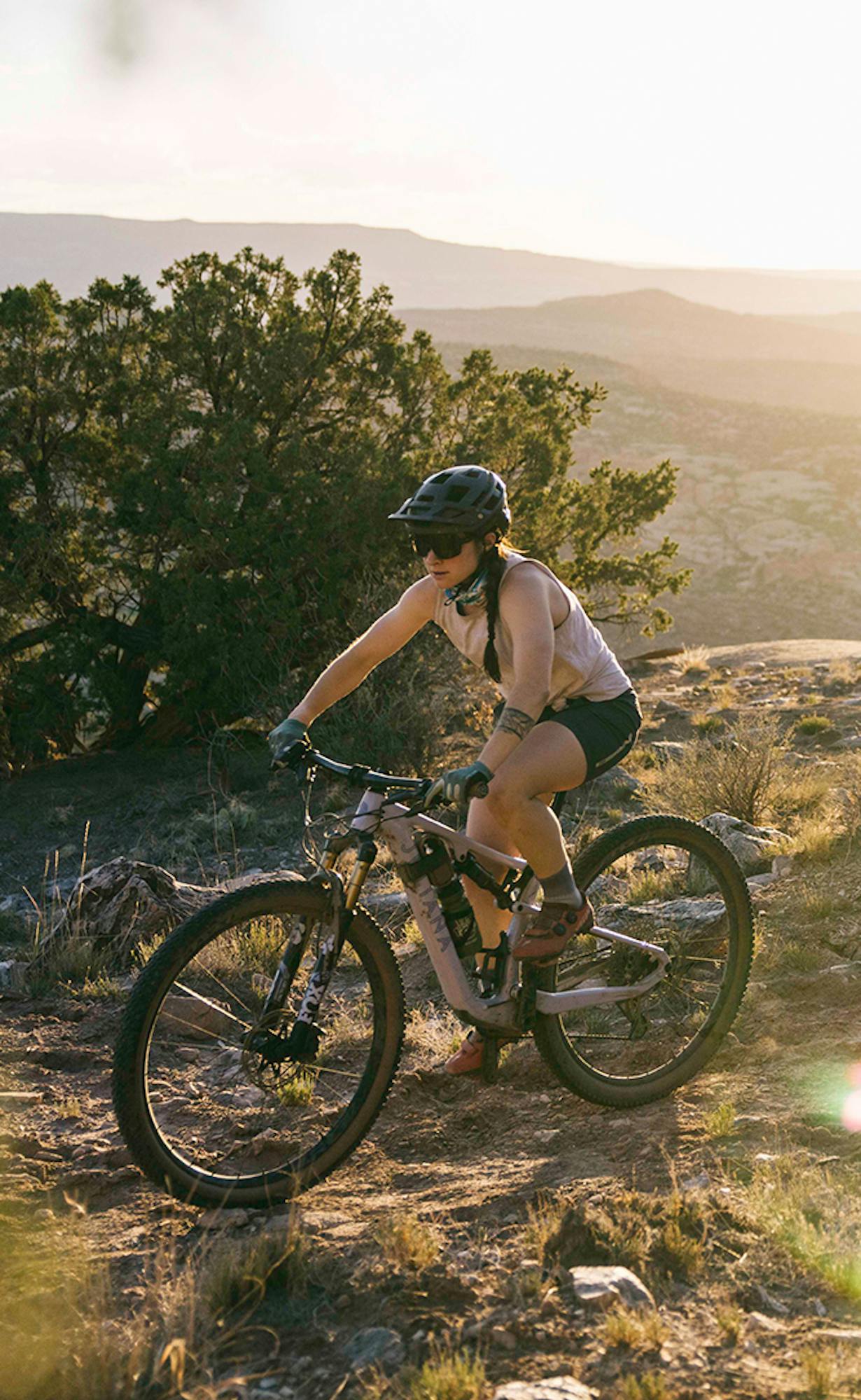 As a physical therapist, Abby understand the importance of staying active and pushing your body to new limits. And for those who love the great outdoors, mountain biking can be an exciting way to explore new trails and challenge themselves physically. As someone who is passionate about helping people access mountain sports, she knows that having the right gear and supplies can make all the difference in ensuring a safe and enjoyable ride. In this blog, we'll explore what to pack for mountain biking, so you can hit the trails with confidence and make the most of your ride.


Backpack or Fanny Pack: To carry all of your gear, you'll need a backpack or fanny pack. Always bring a hydration pack that can carry at least two liters of water. A backpack can be more comfortable for longer rides, while a fanny pack can be more convenient for quick trips.
Bike Pump: A bike pump is essential for inflating your tires to the correct pressure. A mini pump can fit in your backpack or fanny pack, while a larger floor pump can stay at home or in your car.
Snacks: Bring along some high-energy snacks to keep you fueled during your ride. One of my favorite treats to bring along are Mochi Muffins but you can always keep it simple with just bringing some bars, trail mix, or other snacks of your choosing.
Tools: A basic tool kit is essential for fixing any mechanical issues that may arise during your ride. At a minimum, you'll need a multi-tool, tire levers, and a patch kit.
Stans or Tube: It's always a good idea to bring a spare tube or a sealant like Stans in case you get a flat tire. If bringing Stans instead of a tube, you will also need to pack a valve stem remover.
First Aid Supplies: Mountain biking can be risky, so it's important to bring a basic first aid kit. Band-aids, gauze, and antiseptic wipes can come in handy.
Rain Jacket: Even if it's not raining or windy when you start your ride, it's always a good idea to bring a rain jacket in case the weather turns bad. If I had a dollar for every time I've been caught by surprise in high alpine inclement weather.... A couple of my favorite jackets are the Stio Second Light Windshell and the Stio Exploit Hooded Jacket. The Second Light is great for summer rides where you might get caught on a cold/windy ridgeline, it is very low volume and light which makes it perfect for a fanny pack fit. The Exploit Hooded Jacket will be great if you are worried about any precipitation on the trails. Also very packable and lightweight but does have a bit more volume than the Second Light Windshell.
Water Bottle: Staying hydrated is important, in addition to your hydration pack, put a water bottle with some electrolytes in it on your frame. It doesn't take a ton of electrolytes to keep you hydrated for a ride but can definitely make a difference on the hottest days.
Sunscreen: Protect your skin from the sun's harmful rays with a good quality sunscreen.
Helmet: A helmet is a must-have for any mountain biker. It's important to choose a helmet that fits well and meets safety standards.
Gloves: Mountain biking can be tough on your hands, so a pair of gloves can help protect them and improve your grip on the handlebars. If you are prone to finger/hand numbness while riding, make sure you get gloves with padding that allows for some space between the middle of your palm and the handlebars.
Glasses: Sunglasses or clear glasses can protect your eyes from dirt, dust, rain, snow, and bugs while you're riding.
Bike Shoes: Proper shoes can make a big difference in your performance and comfort while riding. Mountain bike shoes are designed with stiffer soles and better grip for off-road terrain.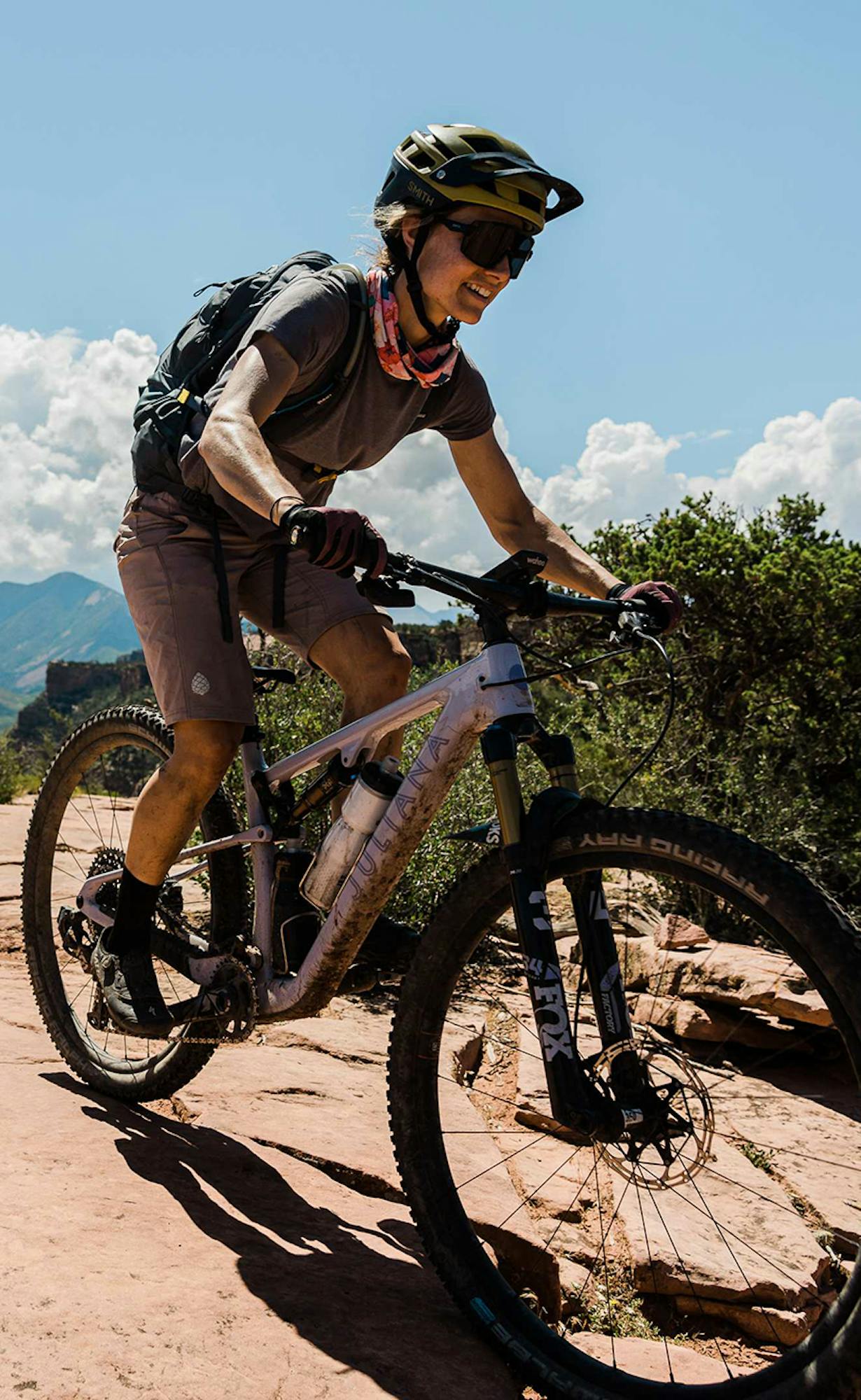 Ultimately, having the right gear and supplies is essential for a safe and enjoyable ride. By packing items such as a bike pump, snacks, tools, first aid supplies, rain jacket, water bottle, sunscreen, helmet, gloves, glasses, and bike shoes, you can fully enjoy the thrill of living an outdoor lifestyle and pushing yourself to new heights. Mountain biking is an exhilarating way to experience the beauty and excitement of the great outdoors, and with the proper equipment, you can be ready for any adventure that comes your way. So I encourage all beginners to hit the trails with confidence, knowing that you too can experience the rewards of physical activity and the joy of letting the outside in.
Follow us @stio
See how people are living the mountain life everyday in our gear.