Layering Up On Our Commitment To Sustainability
Recycled Pinion Program
Our lightest-weight, RDS-certified Pinion Down Collection now delivers its signature warmth with the lowest impact ever. Updated with 100% recycled nylon to weather the mountain life you love in all four seasons.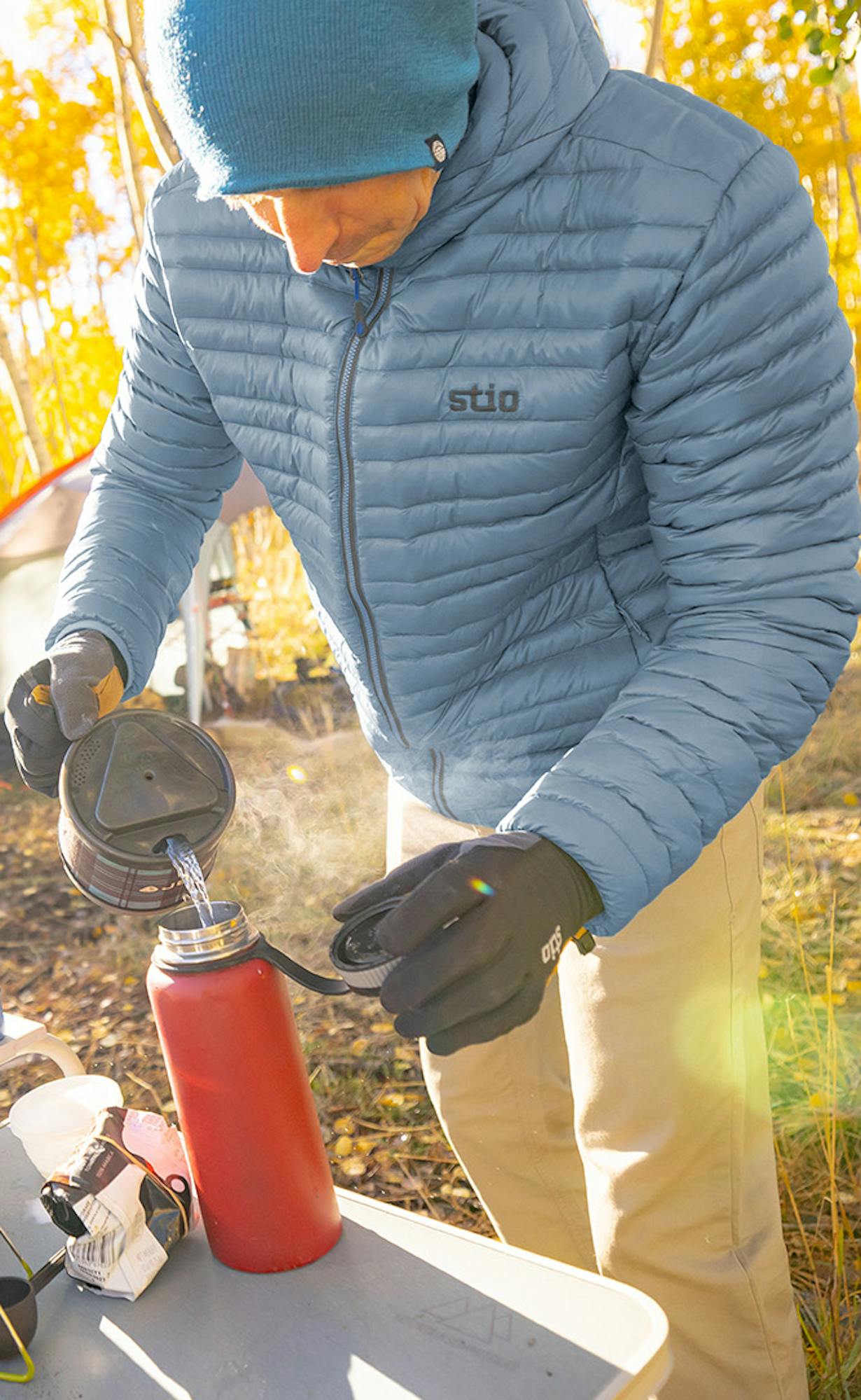 Photo By Noah Wetzel
A Stio flagship and four-season staple for lightweight, layerable warmth, the Pinion collection has become a best-seller, season after season, offering versatile down insulation ideal for everything from chilly summer nights to crisp fall hikes, epic ski days and spring's frosty morning commutes.
Because of its considerable footprint in our insulation lineup, upgrading it to the ranks of our recycled program is mission-critical in our ongoing efforts to remain accountable stewards of the outdoor places we love to play. Which is why, in line with our company-wide shift toward preferred materials, we're excited to announce the launch of our recycled Pinion program this season, updated to a 100% post-consumer recycled Nylon shell—for all-season warmth that loves the outdoors as much as you do.
Same performance, more planet-friendly construction.
Featuring the same water-proof ripstop shell now made with recycled Nylon, our updated Pinion Collection delivers the same wind-stopping performance, lightweight, packable insulation, long-lasting durability and soft, smooth handfeel to keep you warm and dry from ridgeline transitions to your favorite bistro. Now designed more responsibly, for weathering the mountain life you love.
Rethinking our footprint
As with all synthetic materials, Nylon contributes to global warming because of the natural resources used and carbon (aka greenhouse gasses) emitted to manufacture it. Shifting to recycled Nylon made of post-industrial waste (repurposed scraps and fragments typically discarded during the fabrication of traditional Nylon yarns), our new Pinion program retains the exact same performance specifications while using 31% less fossil fuels (energy depletion) and reducing CO₂ released into the atmosphere by 21%.
To compare the positive implications of our shift to preferred materials, we look at the apparel industry standard Higgs MSI index: a trusted tool for measuring and scoring the environmental impacts of various materials used in our collections. For our new recycled Pinion program, Higgs MSI indicates we're removing 90,275 lbs of CO₂ from the atmosphere compared to conventional Nylon, which in simpler terms roughly equates to driving a car 101,368 miles less. In terms of energy used, we're saving 757,000 million BTUs (units of energy), roughly equivalent to 126,000 barrels of crude oil saved.
Taking steps forward for all of us.
Our cradle to grate approach to sustainability ensures we address eco-friendly viability at every step of our product lifecycle from the materials we use to the energy required to run our manufacturing facilities and even our office headquarters in Jackson, WY. In turn, ensuring the new products we put out in the world are as responsibly produced as possible. Along with our updated Pinion collection and other recycled offerings, we are committed to sustainability across the entire supply chain from the choice of materials used to eliminating our carbon footprint, and purchasing carbon offsets to balance the factors we can't yet control.
By taking responsible action to re-construct one of our most tried-and-true product collections with newer, better, more planet-friendly materials, all while maintaining the same quality, fit and functional insulation Pinion fans around the world know and love, we invite you to join us in pouring the same passion we have for the outdoor places we love into protecting them together, one layer at a time.
The Recycled Pinion Collection
Follow us @stio
See how people are living the mountain life everyday in our gear.