Summer Glading, Winter Riding
Photos by Joe Klementovich
Stio Ambassador Tyler Ray tells how the Granite Backcountry Alliance stitched together the partnerships, people and passion to create public access to sustainably-managed glade skiing.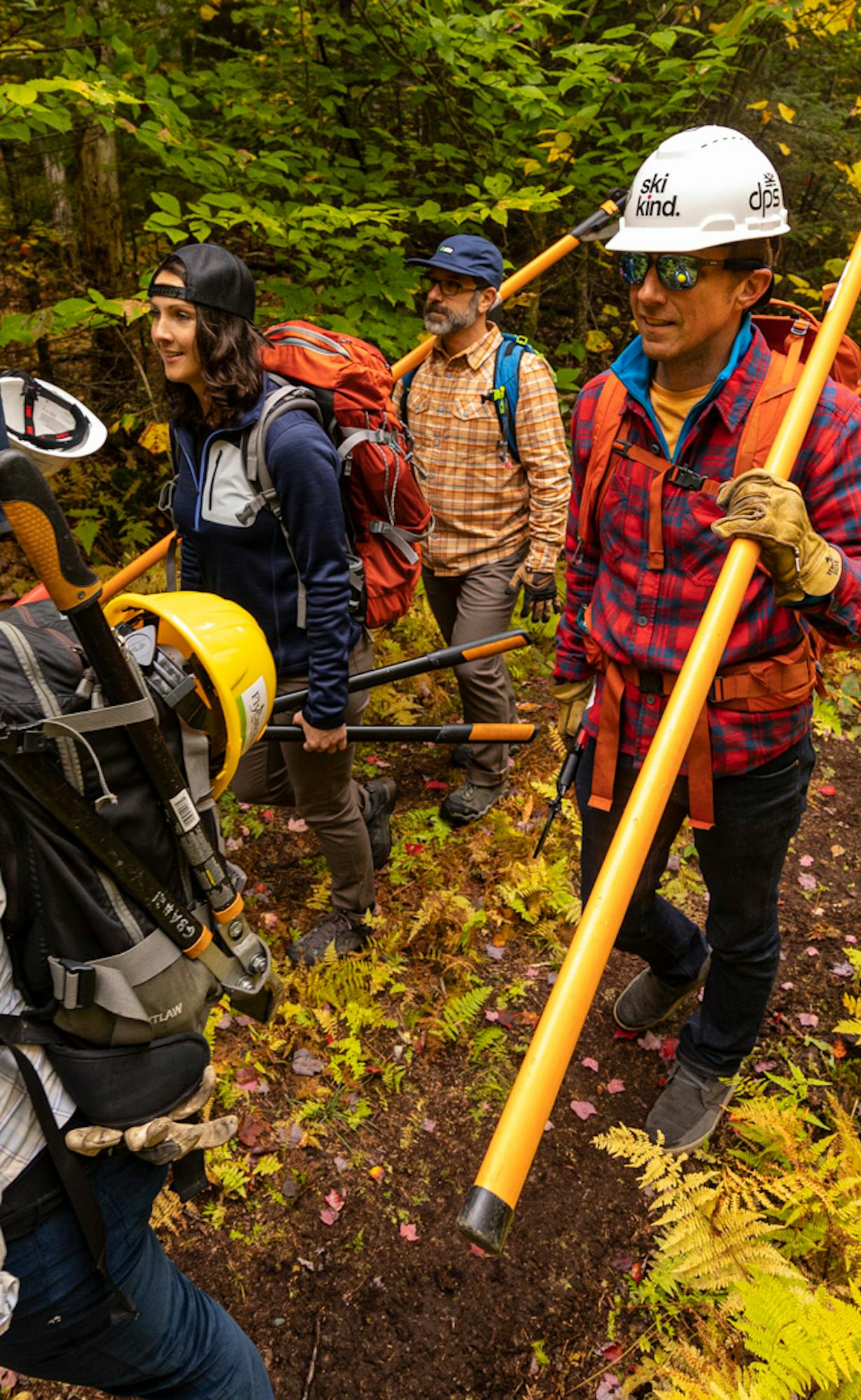 We should have brought more coffee, I thought to myself. It's a crisp October morning in northern New Hampshire and a mountainous band of over one hundred volunteers known as "Quarry Dogs" cluster together, resembling the patchwork grit of a small minuteman army.  
Each Quarry Dog is equipped with various tools, a helmet, and mountain workwear, but the mood is light. Today is the first glade day of the season, and everyone's eager to trim the woods in anticipation of a long, snowy winter ahead. Forget the coffee—ski season is near. 
Such fall gatherings have become standard issue over the past six seasons across New Hampshire and western Maine thanks to Granite Backcountry Alliance (GBA), a nonprofit based in North Conway, NH. The concept is to work with land managers to develop human-powered glade skiing through a partnership-based model. As of now, GBA is supported by a 1,500-person membership.
I founded GBA in 2016 with the rallying cry to "Join the Movement" and "Ski Free or Die," playing off New Hampshire's revolutionary tagline. Together with our volunteers, GBA has created Graniteland, a below-treeline network of glades created with sustainable practices, to foster human-powered skiing and riding in the area. Located in and around the White Mountains, Graniteland contains an impressive 50,000 vertical feet of glade skiing.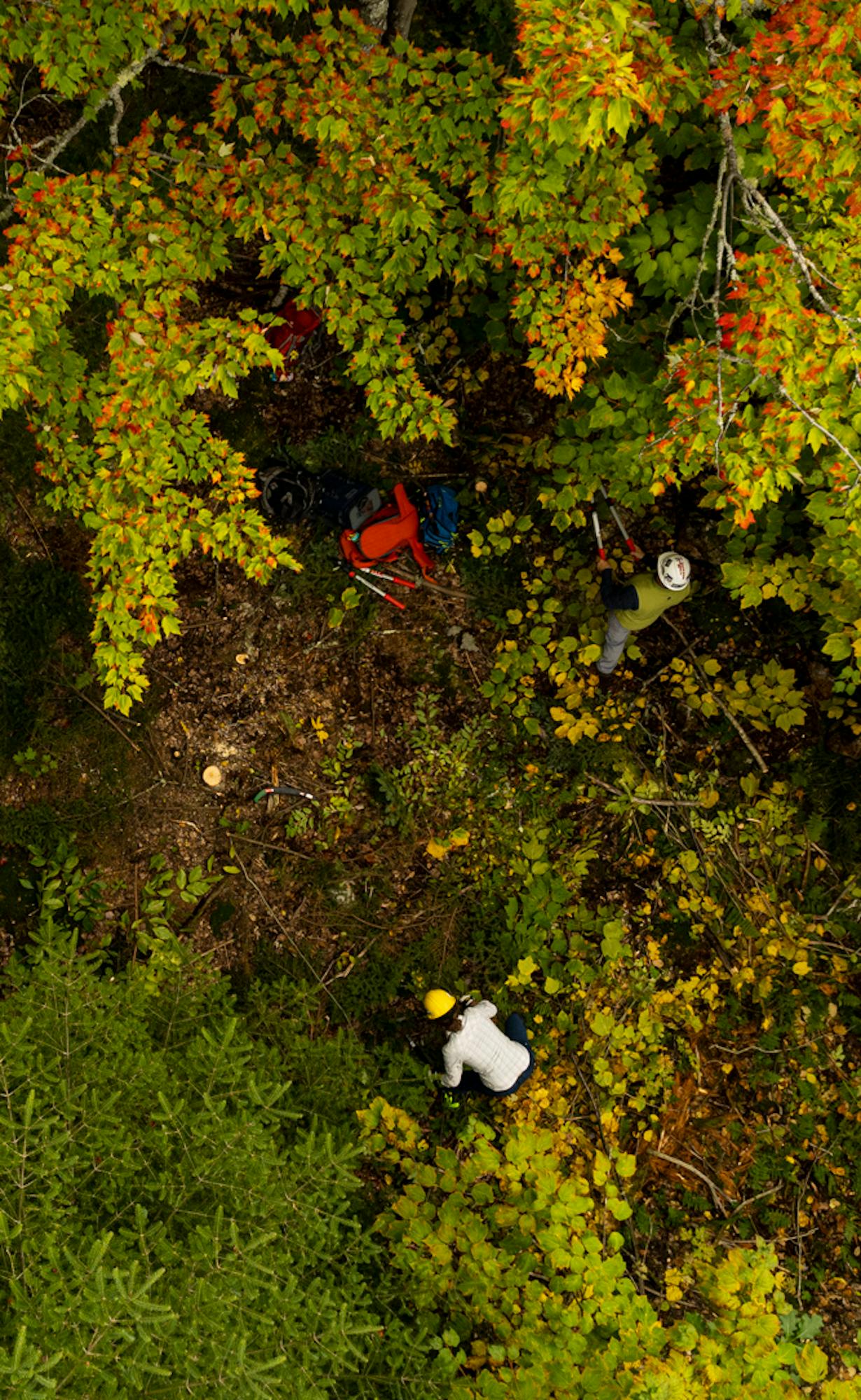 We have a tree density problem in New England. Second growth forests are not kind to skiers—unless you're wearing a hockey mask or other bodily armor. In the past, clandestine trimming operations were responsible for clearing glades. Today, we trim branches and clear underbrush in a managed, above-board manner to create low impact "glade ranches"—it's like two tickets to paradise compared to the practices of the past.
Currently, there are eleven "glade ranches" in Graniteland spanning 120 miles as the crow flies from Pike, NH, to Rumford, ME, encompassing a dozen rural mountain communities. Additionally, Granite Backcountry Alliance maintains four 1930s-era ski trails with nearly 10,000 vertical feet of terrain, including two historic backcountry cabins. This collection of fifteen glade ranches offers publicly accessible terrain where skiers can earn their turns for free. The glades range from 400 to 2,500 vertical feet, on average 50 feet wide, and cater to all skill levels. 
For many, thoughts of winter emerge after Labor Day. The days grow shorter, leaves change color and the ski mags and movie trailers suddenly arrive, igniting visions of exhilarating powder runs through untouched glades. For the Quarry Dogs, glade days provide space to reconnect with winter friends, meet new skiing mentors, spend time with family, or simply enjoy free end-of-day beer and swag. By showing up to a glade day, volunteers forge a personal connection to winter and fortify a lifelong engagement with the land.






While every volunteer is a Quarry Dog, a remarkable 100-person volunteer core management team known as the Ranch Family supports Graniteland. The effort is astonishing, with total volunteer hours—including those of Quarry Dogs—easily surpassing 30,000 in the aggregate. Altogether, Graniteland represents a game changer in the progression of human-powered skiing through its welcoming community-based approach.
On this October day, we are in Littleton, a classic small New Hampshire rural town that has evolved into a recreational hub, a common trend for amenity-rich "zoom towns." Littleton, nestled in a hilly valley off Route 93, boasts a lively main street village, featuring Chutter's, home to the longest candy counter in the world, and the renowned Schilling Beer Company, a downtown staple near the Ammonoosuc River. But the surrounding recreation community thrives thanks to PRKR MTN Trails, a four-season human-powered trail network accessible from town and site of the current glade. At the close of the day, PRKR MTN Glade now contains four lines including Chiswick, Pollyanna, Timber Baron and Railroad Hotel—the nomenclature representative of the tourism, logging and culture that shaped Littleton over the years.
Every skier should be fortunate enough to have a "glade in my backyard" (#GIMBY) like the town of Littleton. Graniteland boasts a dozen #GIMBY communities which generate economic activity around these winter outdoor pursuits. This is mountain life.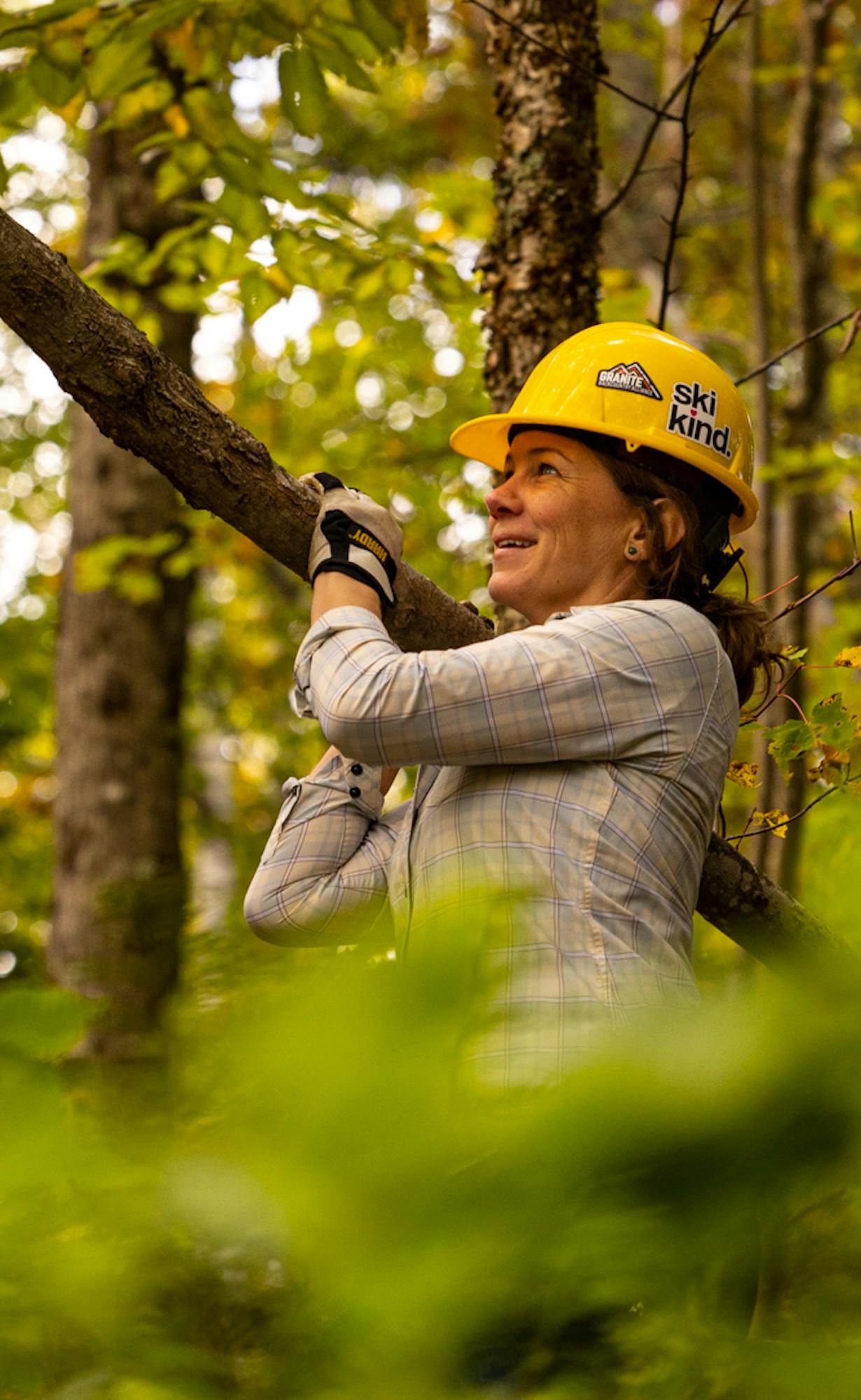 As the day winds down, Quarry Dogs return from the glades chatty and spirited; they are caught in the moment, unlikely to realize the historic nature of their contribution. It's the anticipation for snow that is on their mind, or perhaps, more immediately, the prospect of cold beer that keeps them where they should be: in the moment. The connection to winter is complete; these Quarry Dogs will return.  
As I look around the clusters of Quarry Dogs enjoying the moment, I take a minute and appreciate the role the outdoors has in our daily lives. Our ability to harness that energy for positive community spirit is empowering. It's a good time to be alive.  
I take a long and satisfying pull from a cold Schilling beer.
I envision a run through the powdery glades of Graniteland. 
For sure, ski season is near. 
Tyler T. Ray is a Stio Ambassador residing in North Conway, New Hampshire. Tyler is the founder of Granite Backcountry Alliance and manages the entity through his company Backyard Concept, LLC, a professional outdoor advocacy firm specializing in legal, management, consulting, and events services to outdoor industry clients. 
Learn more about Granite Backcountry Alliance.
Top Stories
Check Out All the Top Stories
Follow us @stio
See how people are living the mountain life everyday in our gear.